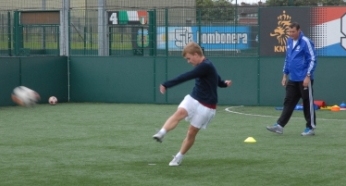 He looks like Andrey Arshavin, he has the same body shape as Andrey Arshavin and he plays football like Andrey Arshavin.
I think with hard work and a shade of good fortune, Victor Gutsul might very well be the next Andry Arshavin.
Gutsul, unsurprisingly is Russian, he was born in Moscow and he's just 15 years old.
But when I went to watch him in training he demonstrated an attitude for work and a desire to learn that would put seasoned professionals to shame.
And when he thumped the ball so hard, with either feet, the unfortunate goalkeeper recoiled in fright, this was no boy I was watching.
I was invited to this intriguing training session by ex-Chelsea defender Gary Chivers.
Chivers has being hired by Gutsul's Russian parents to put their lad through his paces; to prepare him for the rigours of the English game; to assess when would be the right time to take him for a trial.
"He already has the physique of a man," says Chivers. "And he is blindingly fast.
"There is no way I'd have liked to have had him running at me when I was playing," he added.
Chivers played 569 games at the top level, and so is perfectly placed to comment on Victor's potential.
That potential was first noticed in Cyprus where Gutsul was playing for a club side in Pathos. A coach there told his father, also named Victor, that England was the best place for his boy's development.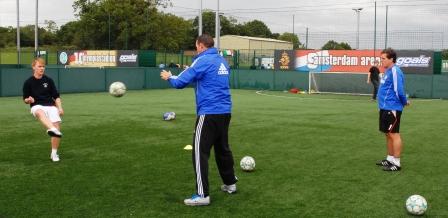 "The family wanted to come to England anyway," said Chivers. "So it was perfect timing for him really."
Victor senior owns the boutique Fox Country Hotel in High Wycombe.
"I got on board when I was approached in January this year by the family's UK advisor Maria Amenitskaya.
"We had a conversation about what they wanted and Maria was very clear that the father Victor and mother Natalia wanted the very best for Victor. With that in mind, I told her that I wanted to bring in another coach, David Lee to assist in fast-tracking the lad."
Lee played 151 times for Chelsea in a long career and, following retirement stayed in football, first as a scout and then in coaching roles - he has just finished a stint as caretaker manager at League Two side Northampton Town.
"I went to see the lad perform for his college side, earlier this year," said Lee. "To assess him.
"I thought 'this boy has ability', - he played upfront and in wide positions. He was very quick and very strong."
Lee added that neither he or Chivers would have taken the coaching roles on, had they not thought it would be of benefit to the boy.
"Our reputations are at stake," said Lee.
The family wanted Chivers and Lee to give Victor three days of coaching. When this was concluded, all parties were happy, and the pair were then commissioned to train Victor three days a week.
"He had been at Reading at under-13 group level and was invited to join Aldershot," said Lee.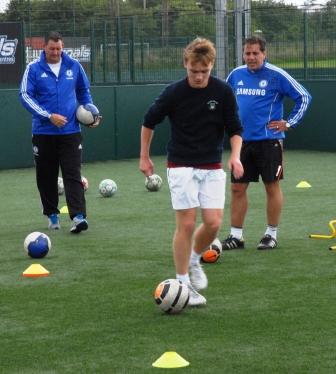 "We are also training him to academy standards and, just as importantly, teaching him the tricks of the trade.
"During half-term, we all went to Cyprus for three weeks of warm-weather training.
"We were limited to about two hours of actual training time a day due to the searing heat, but that was a major turning point for us and Victor," added Lee.
"There was a marked improvement all round in his game - his confidence in particular."
Chivers added: "It was then that we thought we could get Victor fit enough and sufficiently prepared to be successful at a trial."
Chivers and Lee agree that Victor would be ready for a trial close to the beginning of next season.
"You should see him when we put him through his SAQs," said Chivers.
Lee helpfully informs me SAQs means tests for speed, agility and quickness.
"Everything we do in training has game relevance," says Chivers.
"He has amazingly quick feet," adds Lee.
I notice this myself during the two-hour training session.
While Victor is doing warm-up work with Chivers, Lee sets up cones on an area the size of a small-sided pitch. He also unravels what looks like a small ladder.
It's on this simple contraption that I get to see Victor's speedy feet at first-hand.
Asked to repeat shuttles of increasing complexity through the gaps in the ladder's rungs, Victor completes the tasks remarkably quickly.
"See what I mean," enthuses, Lee - "Blisteringly fast, eh?"
I agree.
Training looked hard but it looked fun too.
And it was reassuring to see Victor enjoy the pressure the coaches were putting him through.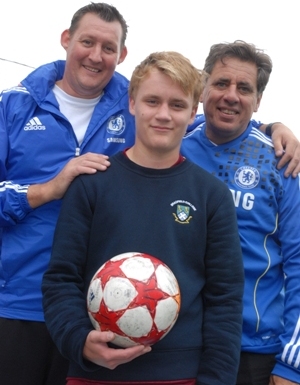 He particularly relished shooting practice. With either foot, Victor demonstrated one of the major differences between average players and those with the ability to take their game to a significantly higher level - power.
The poor goalkeeper who was charged with the task trying to stop the ball showed remarkable resilience and undoubted courage as shot after shot either zipped past him to bulge the net or, on the few occasions the hapless goalie got to the ball, it almost burnt his fingers.
With SAQs complete the gruelling session ended with a low-key game of head tennis.
Victor took on Lee and Chivers in turn. The old pros, at last enjoyed demonstrating the aerial ability which were the hallmarks of their professional careers.
But Victor made them work for every point they gained. It was a cheery sight that demonstrated that this one-to-one training regime was working perfectly.
"Victor has become stronger and his stamina has improved immensely in the past few months," said Lee.
"I believe in the next couple of months he will be ready - physically and mentally to do himself justice at a trial. That is our realistic goal for him and it's one he and the family agree with."
With Chivers and Lee's extensive contacts within the game, it's a surefire bet that Victor will be attending a trial later this year with a Premier League side.
And what of Victor himself, what does he think about this intensive training from two wily but good natured ex-professionals.
Just as he showed maturity with the ball, he demonstrated remarkable maturity in the answers to my questions.
In perfect English Victor explained that from the age of 10, all he ever wanted to do was to be a professional footballer.
"I was born in Moscow," he said. "My family moved to Cyprus when I was three. We came to England when I was 10."
Victor is a boarder at the co-educational Bradfield College, near Reading in Berkshire.
He plays football for the college and enjoys enjoys athletics and hockey.
"I like hockey," he says. "But I love football.
Sitting opposite me in his sweat shirt with the Bradfield College logo emblazoned on it, Victor forgoes the offer of a Coke from Chivers, instead he steely focuses his eyes on me.
He is calm, assured and self-deprecating. He informs me that he has three sisters and two brothers.
When I ask how did he develop such sharp footwork, assuming that he would just say it was just a natural thing, he surprised me by replying it was probably, in truth, due to ballet.
"From the age of three to nine, I had ballet lessons,'" he said. "It was great fun. The knock-on effect was that I must have got the agility and sharpness from that.
"In fact, I have a twin sister, Victoria, who is in ballet school in London."
Thinking that I might have stumbled on ballet training as the solution to the England football team's lack of success at Euro and World Cup level, Victor assures me that his love of hip-hop music and dancing is also a contributory factor in his athletic prowess.
Undeterred by the thought of not saving English football on my own by the introduction of classical dancing to Rooney and Co, I ask Victor about what he likes about football.
"Scoring goals," he responds quickly. "I scored close to two goals a game for college. But if it's a really important game, then so long as we win, it doesn't matter if I don't score. But if it's a friendly, I'll try and score as much as possible," he laughs.
Asked for a specific in which Chivers and Lee has improved his game, he cites analytically: "The way I pin back the defender."
He then demonstrates this to me by pulling his arms back as if pushing back an imaginary centre-back.
Victor is able to name every player in the Russian top division in the same way as an Chelsea lad could tell you the starting line-up for The Blues' Champions League winning side.
His love of football is a obvious, his desire to be the best player he can be is demonstrated in bucket-loads by his attitude to training.
He also believes that Chivers and Lee are providing him with the best chance to be ready for his date with destiny - his trial.
"Gary and David have played professional football," he says. "They know what it takes to get there, and are giving me a chance. I respect them for that."
With the former Arsenal favourite Arshavin, now plying his trade back in Russia for Zenit St Petersberg, the time might soon be here when English football welcomes another Russian native to the ranks of the Premier League.
I would not be surprised if his name wasn't Victor Gutsul.