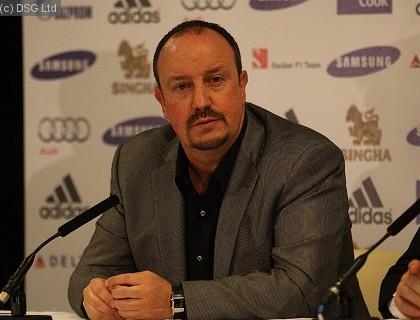 Benitez insisted he had no problem keeping the manager's hotseat warm for his fellow Spaniard following his own appointment on an interim basis until the end of the season. Former Barcelona boss Guardiola is on a one-year sabbatical from football and is said to be Chelsea owner Abramovich's number one managerial target.
Guardiola's agent claims his client will make no decision about his future until next year and - if he elects to join Chelsea - Benitez expects to be among the first to know, as he joked: "I think so! I have good relations with Pep so any time I call him, I say, 'How are you doing?' I know he is enjoying life in New York, now, with his family."
And would Benitez's bosses at Chelsea also tell him if they were in talks with Guardiola?
"I don't think that they will let me know," he shrugged. "But I don't have any problem. I know the situation. I have come to create a competitive team and to win trophies.
"It might be that you can win three trophies, which would be difficult for anyone.
"The worst case scenario - if you win three trophies and then they would say, 'No, we give the job to another one' - I will be so pleased with three trophies."
Winning silverware barely scratches the surface of what is expected of a Chelsea manager by the most demanding owner in football, who reputedly wants to watch 'Barcelona in blue shirts'.
Benitez, who met Abramovich over dinner for the first time on Thursday night, said: "He's not desperate in terms of, 'We have to play Barcelona-style'. He wants to enjoy watching games.
"The way to enjoy is to see your team winning, and attacking and creating chances. The way that we create chances could be passing the ball or with a long ball."
Source: PA
Source: PA