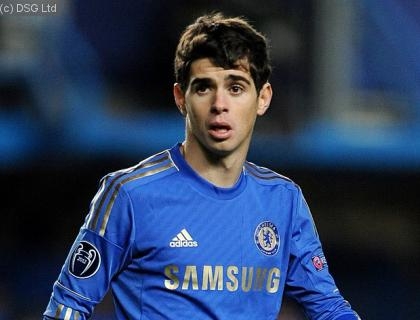 The Brazilian playmaker is the only member of the Blues squad which arrived in Japan on Sunday to have played previously in the Club World Cup when Oscar's Internacional were dumped out by African side TP Mazembe in the semi-finals two seasons ago.
He told Japanese magazine World Soccer Digest: "I am pleased to have the second opportunity to take part again and I hope that, this time, I will get to the final and get a trophy at the end of it."
Chelsea will take to the field on Thursday barely a week after making one piece of unwanted history, becoming the first Champions League holders to crash out of the competition before Christmas. Looking to pile on the misery for Rafael Benitez's men if they reach Sunday's final is likely to be Corinthians.
And while the Champions League final remains the biggest game in European club football, the Club World Cup is the be all and end all for teams from Brazil and Argentina.
Oscar said: "It has always been big in South America, even in the days when it was the Intercontinental Cup. In Brazil, it has always been seen as the one opportunity for our clubs to play against one of the big European teams.
"This was always seen as the chance for them to test themselves against a big team from Europe and to go and show their football to the world. Nowadays, the European clubs have all started to take the competition more seriously and they've been winning rather than the South Americans.
"For Chelsea, we are representing Europe and we are going there with a determination to do it well. We are going to try to win this competition this year."
The 21-year-old, who faces a fight just to get in Benitez's team having started the last three games on the bench, added: "It's a very important title, not only for Chelsea but worldwide. I am still learning about English football and I have been told Manchester United are the only English team to have won this world club title.
"It is a title Chelsea have never won and every title is important for Chelsea. If we win it, it is going to give us so much more confidence and strength for the rest of the season. Coming back, if we're able to win it, it will be better for us and it will give us the chance to keep building on the back of all these results. That's what I'm hoping for and expecting."
Source: PA
Source: PA