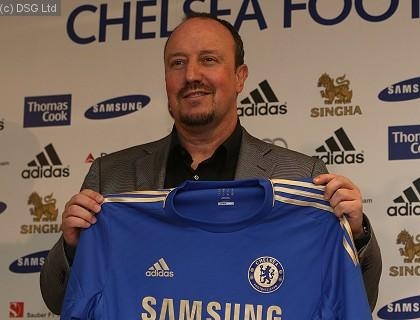 Benitez was given a taste of what to expect in his seven months at Stamford Bridge when the Football Association announced the outcome of the Mark Clattenburg affair shortly before he was presented to the media. And it may not be just scandal the Spaniard has to contend with.
But the lure of silverware proved too good to resist for a man who had been out of football for almost two years. He said: "This year, they were asking me in a lot of interviews why I wasn't getting this job or that job. I said I was looking for the right opportunity, a top side to fight for trophies. If you get an opportunity like this, you have to take it."
Benitez used the fact he had only just been appointed to sidestep the Clattenburg issue but there was no avoiding questions over whether he was simply keeping the seat warm for Pep Guardiola.
"I have a very good relationship with Guardiola, a great manager," he said of his fellow Spaniard, who is said to be Abramovich's number-one target to manage Chelsea once his one-year sabbatical ends. "What will happen in the future you never know."
He added: "At this moment I'm here. I got the job. Winning games is a guarantee for everything."
Benitez admitted he had taken the job despite having never once spoken to owner Roman Abramovich, with whom he met over dinner for the first time on Wednesday night. Abramovich is said to demand Chelsea play like 'Barcelona in blue shirts'.
Former Valencia and Liverpool boss Benitez, who has a reputation for being more pragmatic, said: "I don't know about the style he wants, but he'll be happy with the team winning. It's not about one way to play. At Valencia, winning the Spanish league after 31 years, it wasn't bad. If we play like Valencia, we can win and he'll be happy anyway."
Abramovich is the only man who matters at Chelsea but Benitez may need the fans on side to achieve that. There was widespread anger at the appointment of the man who used to openly disparage his new club while he was at Liverpool.
"If I'm a fan, I would like to see my manager fighting for my team, my club and doing almost everything to win every game," Benitez said. "It's more a manager defending his team against another top side. I'm sure the fans here would like to see me doing the same now that I am here, defending their club."
Source: PA
Source: PA