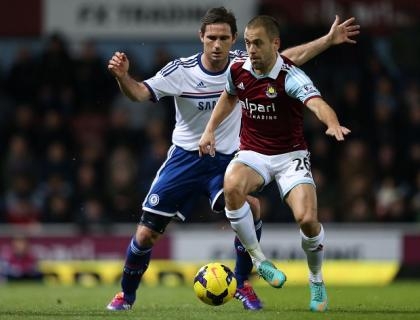 Lampard scored twice against his former club as Chelsea claimed a second away win in the Barclays Premier League this term, with Oscar also on target at Upton Park.
The 35-year-old England midfielder converted a penalty and a trademark strike from the edge of the area to end a 10-match scoreless run in the Premier League and take his tally to five goals in his last five league games against the club he left in the summer of 2001.
"He played very well," Mourinho said.
"We gave him the protection of Mikel to let him go forward a bit more. After that Lamps felt a bit more freedom to go and support and to arrive in shooting areas."
Lampard kissed the Chelsea badge on his shirt following his second goal at a ground where he began his career.
Mourinho hopes to help the midfielder to a successful conclusion to his career.
"I was his manager in the best period of his career and now I come back with him to enjoy the last period of his career," said Mourinho, for whom Lampard was a mainstay in the side during his first spell as boss from June 2004 to September 2007.
"When he has this relationship with the manager, I think he feels even more comfortable to enjoy himself.
"He's in a moment where he has nothing to prove - to you, to the fans, to me, to himself. He has nothing to prove.
"He has just to enjoy the last years of his career, try to play the maximum he can, try to score because scoring was always something that was part of his DNA as a player, and enjoy life."
Mourinho would not be drawn on how long he expects Lampard, 36 next June, to continue, but believes Oscar has a long and bright future.
Oscar won the spot-kick when he was upended by Jussi Jaaskelainen, who was trying to meet Guy Demel's dreadful back-pass, and added a second when he forged forward unopposed.
"He played fantastic," Mourinho added.
"It's not easy to succeed in this football country when you have the talent he has and not the physical ability he doesn't have, because he's a fragile boy.
"The talent is amazing and the kid can only improve."
Mourinho was asked if he expects a call from referees' chief Mike Riley over the decision of referee Chris Foy not to dismiss Jaaskelainen for denying a clear goalscoring opportunity.
Mourinho said: "I spoke with Chris Foy and he told me that it was not a red card.
"If Chris Foy says it was not a red card and he was 10 metres away - I was 50 metres away - I don't want to discuss. I think the referee was very good, the linesman the same.
"Possible red card. If Chris Foy says no, okay, no."
The strikerless Hammers, who have now failed to score in seven of their 11 league matches this season, were booed at half-time and the conclusion.
Manager Sam Allardyce said: "I don't see why they shouldn't boo when they're not satisfied with what they're seeing. I wasn't satisfied with what I saw."
Allardyce made a double substitution five minutes prior to the interval, with Joe Cole marching down the tunnel after being taken off.
"Somebody has to come off," Allardyce said.
"It's frustrating, every player's frustrated, because all every player ever does is think about themselves. I have to think about the bigger picture.
"If he's frustrated, that's fine. Next time he gets the chance, he's going to play so well for me that the last thing I could do is substitute him.
"I brought the captain (Kevin Nolan) off in the end, because I didn't think he drove the team on as much as he normally does."
Rarely has Allardyce made a double change in the first half and he was frustrated Modibo Maiga's second-half effort did not put his side back in the game.
"We got kicked in the teeth by giving the penalty away and then the reaction for us was that we were having to contain Chelsea too much, which I thought was going to lead to another goal," Allardyce added.
"So I made the decision, tried to get them on and unfortunately the other goal went in.
"We play with a front man, we don't play with a front man; we play with two front men, we don't play with two front men.
"At the moment it doesn't matter what we play with in system terms, we're creating chances and we're not scoring.
"We didn't create too many chances today, but we did create a chance to get us back in the game and you should take it. Then who knows?"
Source: PA
Source: PA