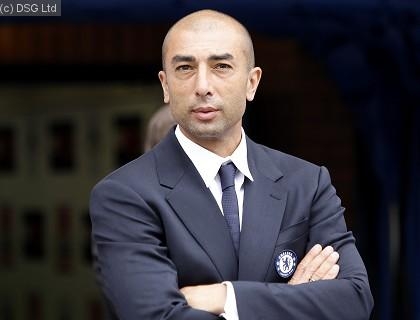 Juve star Claudio Marchisio and assistant manager Angelo Alessio both hailed the job done by their fellow Italian at Stamford Bridge, the latter confident Di Matteo would not be sacked if the European champions failed to reach the knockout stages.
And that was exactly the outcome Marchisio and Alessio were seeking as they plotted the win over Chelsea on night that would put their own side on the brink of qualifying at the holders' expense.
Despite Di Matteo securing the Blues' first-ever Champions League title in May, there is no telling how owner Roman Abramovich would respond to them becoming the first holders to crash out before Christmas.
But Alessio, performing the duties of Juve manager Antonio Conte during the remainder of the latter's ban over the 'Calcioscommesse' match-fixing scandal, said of Di Matteo: "He did something extraordinary last season and he is showing it again this year.
"We're pleased when an Italian coach does so well in England. We are pleased with what he has done and what he is doing. I don't think he is actually going to lose his job if they don't qualify."
Di Matteo came from nowhere to become the first Italian to win the European Cup with a foreign club after being promoted to caretaker manager at Chelsea.
His appointment as permanent boss was greeted with scepticism amid suggestions securing Pep Guardiola was Abramovich's long-term aim and two Barclays Premier League points from 12 have not helped the incumbent's cause.
But Juve midfielder Marchisio added: "He arrived in mid-season in place of the previous coach. For this reason, he was probably under pressure but, nonetheless, he has been able to reach great things, so I am extremely happy and satisfied with his results."
Juve are sweating over the availability of one of their strikers after Mirko Vucinic missed training on Sunday due to flu. However, he did train on Monday afternoon after Alessio said he would be assessed ahead of Tuesday's game.
Source: PA
Source: PA