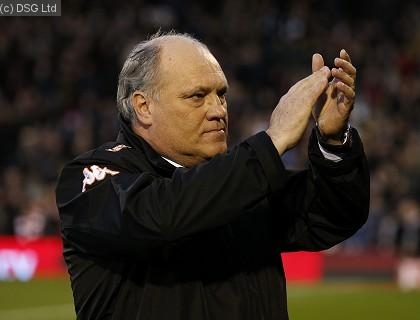 The Blues on Wednesday sacked the Italian just hours after their Champions League defeat to Juventus and swiftly replaced him with Rafael Benitez. It was a move that surprised many within football and has led to a ground swell of sympathy for Di Matteo.
However, there was a different reaction at west London rivals Fulham, whose manager Jol said: "I feel it's hard, especially if the period is that short, but I think in a couple of months he will look back and be a happy man. Roberto was at Chelsea, he won the Champions League, he won the FA Cup so he was very privileged that he was there."
He went on: "Now it is harsh because it is a short period but in a couple of months when he looks back he will feel privileged.
"There is always mixed feelings, you know? Guus Hiddink was there for three months and he won the FA Cup. I know him and I know he was happy afterwards.
"There are always two sides. It is always nice to be there, not nice to be sacked, but on the other hand they gave him the chance to win the FA Cup and Champions League so that's the other side."
Jol himself was dealt with harshly when he was replaced at the Tottenham helm by Juande Ramos five years ago.
"There are a few similarities but he was there for a very short period," the Dutchman said.
"He had a chance. I would absolutely love to have the same chance, that chance to win the Champions League and FA Cup.
"He took that chance, you know? He did fantastically well."
Source: PA
Source: PA