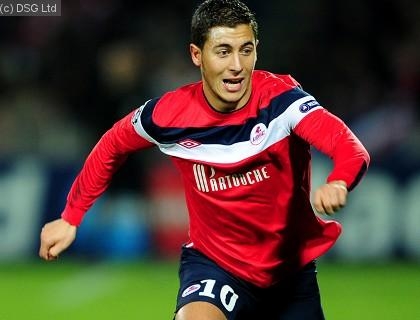 Hazard, one of Europe's most sought-after stars, has been heavily linked with Barclays Premier League rivals Manchester City, Manchester United and Chelsea. However, after scoring a hat-trick in what was almost certainly his final game for Lille on Sunday, the 21-year-old Belgium international said he had not made a decision on his future yet.
"I have not made my choice yet. I haven't signed anything," said Hazard, who also suggested Chelsea's triumph in Munich on Saturday had provided him with further food for thought.
When asked about a possible move to the Blues, he was quoted as saying by France Football: "Now, yes. They won the Champions League so they will be back in that competition next season.
"It's important for me to play in that competition. Chelsea are a great team with great players. Of course it's a possibility."
Hazard also said he would like to make a decision about the next step of his career by the start of next month.
Lille managing director Frederic Paquet, meanwhile, believes there are four clubs leading the chase for Hazard but said he did not know where the player would be moving.
"I'm not sure he himself knows exactly where he will go, so for the moment we don't know," Parquet told Sky Sports News.
When asked if Chelsea were in the hunt, Parquet added: "I think so. From what I know I think there are maybe four teams interested in him. At this moment we don't know."
Parquet also said the French club had not received a concrete offer from any of Hazard's suitors, adding: "Not yet, because we have a very strong relationship with the player and his advisors, so we will get together and for the moment we are just waiting for him to make a choice between these four teams."
Source: PA
Source: PA