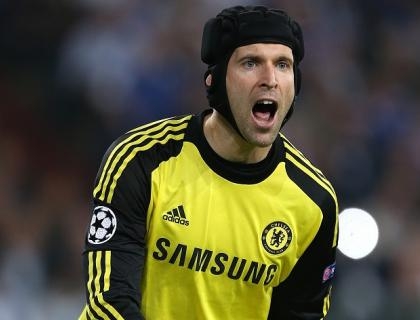 Blues boss Jose Mourinho had targeted a win in Switzerland to render the result in next month's final group match with Steaua Bucharest meaningless, but now his side must win to be certain of top spot in the standings.
Cech's performance in goal was the one bright aspect of a second defeat to Basle as Chelsea, who failed to muster a meaningful effort on goal, stumbled to qualification for the last 16 only as a result of Schalke's draw in Romania.
"We could've made it clear," Cech told Chelsea TV. "(But) we've made it a bit more complicated for ourselves. We qualified, that's the main thing. One more game, we want to make sure we win the game and be top.
"We didn't play the way we wanted, we didn't get the result we wanted - but at the same time we got the result we wanted.
"We wanted to come home from Basle with the qualification in our pocket; we are going home with the qualification, but we want to finish first."
Chelsea play nine matches in December, beginning with Sunday's visit of Southampton to Stamford Bridge in the Premier League, and Mourinho had hoped it would just be eight competitive fixtures.
Instead, the Steaua match is important despite Chelsea achieving something they failed to do last term, when they suffered the ignominy of becoming the first holders to exit the tournament at the group phase.
When Basle won at Stamford Bridge in September - ending a near 10-year, 29-match unbeaten run at home in the group stage - it appeared Mourinho's Chelsea might suffer the same fate.
But the Blues responded by winning 4-0 at Steaua and twice beating Schalke 3-0, leaving many to believe a win at St Jakob Park would be a formality.
Mourinho told Chelsea TV: "In the first match we didn't play well. I don't think we deserved to lose that match, but we did.
"(In Basle) they found us in a moment of some relaxation because we had already nine points, we are almost there.
"We were not under pressure like we were when we played in Bucharest or against Schalke.
"At the same time I think we paid the price."
Cech pulled off a string of fine saves before he was beaten by Mohamed Salah's 87th-minute goal in a lacklustre performance Mourinho attributed to tiredness.
"We didn't start particularly well and their confidence grew," Cech added.
"In the Champions League when you give your opponent hope they can cause you a lot of problems. In the first minute we gave them hope. It became very difficult.
"In the second half we improved, there were situations when we could have scored but it was the last touch that was missing, and a few times in good positions somebody lost their footing or things like that.
"The only positive thing is we qualified. Sometimes you have to have 10 points to go through and sometimes nine points make you qualified."
Chelsea returned to London on Wednesday morning, with captain John Terry travelling separately from the team, catching an earlier flight to attend his grandfather's funeral.
The defender encountered fans disgruntled by their team's performance on his early morning, budget airline return to Gatwick.
Terry was among those who underperformed in Basle as 10 of the team which began at Upton Park and comprehensive outplayed West Ham started for a second successive game.
Mourinho is certain to make changes for the visit of Saints, not least because striker Samuel Eto'o has a leg injury, with scans required to determine the full extent of the problem and his likely absence.
Mourinho will also have a December dilemma, with match after match in a period he has described as "only for the brave".
Mourinho added: "Clearly some boys they showed me it's a bit of a problem to play consecutive matches."
Source: PA
Source: PA