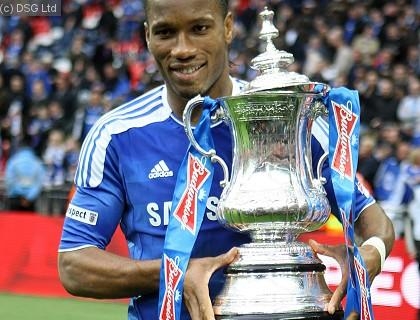 Drogba extended his record of scoring in every cup tie he has played at the new Wembley by netting there for the eighth time in the Blues' 2-1 win over Liverpool. It could be the striker's last appearance at the home of football, with his contract due to expire at the end of the season.
"That's the reason why I came here, to win trophies and to make history with the club," said Drogba, who joined Chelsea in 2004. "It's a great feeling, it's a great feeling. I'm always surprised to score here."
He added: "As I always said, my last goal is the most beautiful one and this one is the most beautiful because the feeling is... I don't know how to explain. I just appreciate the cup and cheering with the fans."
He added of his record haul: "I'm very proud. I'm very proud of it, but I have to give credit to all my team-mates.
"During the last six years, I've been playing here all the finals, I'm really happy and I really want to thank them because they always put me in the best conditions to score goals.
"We made history, not only me. The result is great for us, for the fans, for the club. Our fourth FA Cup final, fourth win, fourth trophy, so I'm happy. That's why we play football, to play finals."
Drogba admitted victory was all the sweeter after Chelsea looked destined to suffer their worst season since he joined the club before Roberto Di Matteo replaced sacked manager Andre Villas-Boas two months ago.
"Yeah, we had a few difficult times," he said, refusing to enter into the debate whether interim manager Di Matteo should be handed the reins full-time. "That's not for me to decide. The only thing I know is that he's doing a great job.
"He's been talking to the players a lot, trying to bring the confidence back. We help him as well because it's not easy for him. He was a good friend with Andre, so it was also difficult for him. So, I think all together we made this."
Source: PA
Source: PA