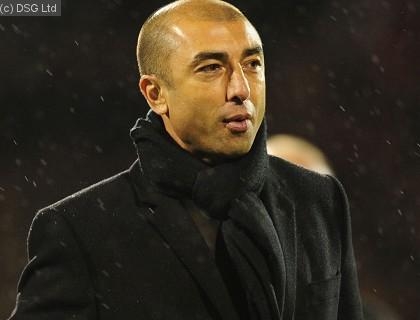 Caretaker Blues boss Di Matteo will surely face no shortage of offers from across the globe should Roman Abramovich decide against handing him the reins full-time after next Saturday's Champions League final, and he is prepared to broaden his horizons if necessary.
"Fortunately, I speak three languages, so I'm quite open-minded," he said. "But I've been in England for a long, long time. My family is here with me. We quite like it here in England."
Speculation persists that Pep Guardiola is Chelsea owner Roman Abramovich's number one managerial target. But with the outgoing Barcelona boss seemingly determined to take a year off, Di Matteo could be one fallback option for the Russian.
Delivering the Holy Grail of the Champions League would make a compelling case for former Chelsea midfielder Di Matteo, who admitted Saturday's game against Bayern Munich was the biggest of his entire career in football.
Frank Lampard revealed last week he lay awake at night dreaming of lifting the European Cup and Di Matteo said: "I think we all do. It's such a challenge to win that big trophy. It's the biggest trophy you can win, as a club footballer. To be able to join an elite group of clubs, that would mean a lot to us."
Chelsea went agonisingly close to securing European glory four years ago when they lost the final on penalties to Manchester United.
Di Matteo revealed he watched the game in Italy "as a Chelsea fan" and could understand how the nature of the defeat still haunted his squad. "It's painful to have come so close," he said. "Penalties are a bit of a lottery, really, and losing is always painful. Losing on penalties even more so."
He added: "They show they're hungry in training and in the games they've been involved in, over many years. We're talking about very successful players here. And they'll show it again."
Di Matteo revealed he had sought advice from other managers ahead of next Saturday's final, as he has throughout his entire career. "There are relationships I have with other managers and coaches," he said. "You always try to exchange your views and opinions. It's very interesting."
Source: PA
Source: PA