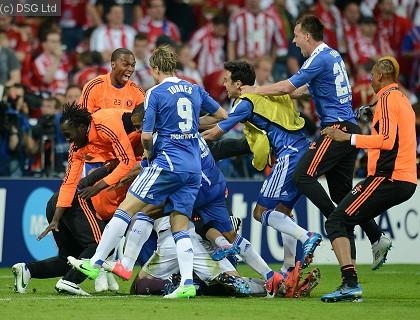 Di Matteo's transformation of the club since succeeding Andre Villas-Boas was completed on Saturday night when the Blues beat Bayern Munich on penalties to win the Champions League for the first time in their history.
Gourlay told Sky Sports News: "We've seen a phenomenal change and a run of results which finished last night with winning the Champions League. There's a number of things we've got to look at and we'll review where we are and take it from there, but it's a phenomenal turnaround really."
Owner Roman Abramovich's pursuit of the biggest prize has seen him spend around ?1billion and go through seven permanent managers before replacing Villas-Boas with Di Matteo in March.
Chairman Bruce Buck assured Di Matteo of "serious consideration" when a decision is made on a permanent successor to Villas-Boas. He said: "He's done an amazing job, Robbie, he's enabled the players to get back the confidence they used to have and he's really got the players performing.
"We've put (managerial speculation) aside for the last six or eight weeks, concentrating on Barcelona, the FA Cup and Bayern Munich, but I think now we have to sit down and figure that out. Roberto is certainly in the mix, he's done a great job and has to have serious consideration."
Adding that the Italian will discover his fate "sooner rather than later", Buck said: "We really need to get the new manager on board before we can start talking about (signing) players."
Didier Drogba, who scored Chelsea's 88th-minute equaliser to set up extra time last night before netting the match-winning penalty , is another with an uncertain future.
The club have been reluctant to offer the Ivory Coast striker the two-year contract he reportedly craves, but Buck said they will step up talks imminently with the 34-year-old, who also netted the ultimately decisive second goal in the FA Cup final win over Liverpool.
"Didier is a big-match player and he did it once again," he said of a man who has now scored nine goals in nine tournament finals for Chelsea. "I think Ron Gourlay is going to sit down with his agent this week and we'll see where it goes. We have to do what's best for Chelsea Football Club and Didier has to do what's best for him, we'll just see how the discussions go."
Source: PA
Source: PA