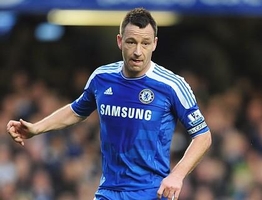 Terry hurt his right knee colliding with the post while making a goalline clearance in Sunday's FA Cup win over Portsmouth. The Blues and England captain was able to continue at the expense of some swelling, adding to the left-knee problem that has been troubling him recently.
Terry, who is renowned for playing through the pain, told Chelsea TV: "I have been struggling with the other knee but I clattered into the post with my right knee. All is fine. It's a little bit swollen but I am sure with the couple of days off we have, it will heal."
Meanwhile, Gary Cahill is reportedly on the brink of completing his protracted move to Chelsea.
Almost a fortnight of negotiations over Cahill's personal terms were said to be close to ending in agreement, which would see the England defender join from Bolton for a reported ?7million fee.
That figure was agreed at the end of last year, with the move hinging on the player's wage demands.
Manager Andre Villas-Boas revealed two weeks ago the parties were "miles apart" on the matter, amid reports suggesting Cahill wanted ?100,000-per-week, with Chelsea offering ?70,000.
A compromise figure of ?80,000 has now been mooted, something that is still likely to be well in excess of what the 26-year-old was on at Bolton, who opted to cash in on their prize asset before his contract expired this summer.
Chelsea fans will be hoping Cahill's arrival helps bolster a defence which has proven uncharacteristically brittle this season, especially at home.
They have already shipped 16 goals and lost three of their 10 Premier League matches at Stamford Bridge since Villas-Boas took charge and are 11 points adrift of leaders Manchester City.
Source: PA
Source: PA