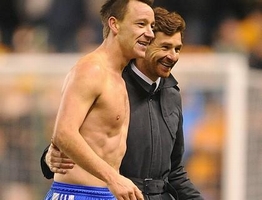 Villas-Boas, 34, arrived in west London this summer but has already written off his team's title chances after an erratic first half of the season left the Blues eight points off the top of the table having played at least one more game than each of their rivals.
Rumours of acrimony between Terry and Villas-Boas were fuelled on Monday when the Blues skipper appeared reluctant to celebrate with Villas-Boas following Ramires' opener in the 2-1 win over at Wolves, but Terry told the London Evening Standard: "I want to make it clear I'm 100% behind the manager."
He added: "There are no problems behind the scenes
"The manager has made it clear the players who want to stay here will be here and the ones who don't can move on. I have seen on the news [on Tuesday] that people are saying I didn't celebrate with the manager for the first goal against Wolves but I did.
"I ran over there and I was worried that Wolves were about to restart and take the kick-off and catch us on the break while we were celebrating. I had a quick celebration with him then after the game as well."
Terry thinks rumours of dressing room unrest have come as a result of the poor run of form which has seen Chelsea win just once in their last five Barclays Premier League games.
"From a results point of view we have been giving people an opportunity to write stuff. People tend to look at it a lot deeper than it is," he added.
"At the same time we need to be winning a lot more which I'm confident we will do. First and foremost, the club is a lot bigger than any of us and will come before any of us from now into the future."
He continued: "Roman [Abramovich] is fully behind him, the club as well, and he is making these changes, not for the short term but for the long term as well. He is going to be the man in charge and we all have to respect his decisions. He has been very up front with all of us so we can't argue with what he's done."
Source: PA
Source: PA