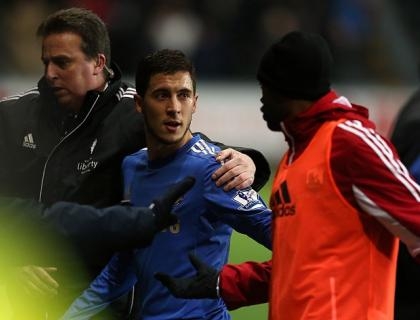 With just over 10 minutes remaining of the Capital One Cup semi-final second leg, and Chelsea needing to score twice to take the tie to extra-time, the Belgian lost patience when a ball boy refused to hand over the ball after it had gone out of play for a goal-kick.
The ball boy fell to the ground as Hazard attempted to get the ball from him with the Blues forward then trying to kick it from under him but instead he appeared to make contact with the youngster and referee Chris Foy produced a red card. Laudrup said: "Obviously I know that will take some headlines."
The Swansea boss added: "But I just want to say with a situation like that you have to try and understand what is going through the head of the one committing the offence.
"I was a player, so I can understand when you are frustrated and your pulse is high and you just want the ball, and in this case there is a ball boy who keeps the ball.
"Up to a certain point I can understand it but there are certain things you can never do, you can never kick another person but I am sure when he (Hazard) sees those images he will regret it.
"We now have to leave it to the player and see his reaction when he calms down and sees it. I don't think any of us would disagree that it was a huge mistake but let's hear from the main person."
The incident threatened to overshadow Swansea's achievement of reaching a first major final, where they will face npower League Two side Bradford at Wembley.
The Dane praised his side for creating history.
"To be in a final for the first time is fantastic," he said. "If you add that we have beaten the European champions over two legs then it is incredible. There were times when they have dominated but that's what you expect, they had chances but the way we started gave me the belief we would do it."
Source: PA
Source: PA