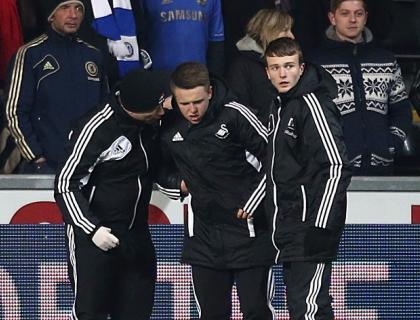 Hazard was sent off by referee Chris Foy for kicking Charlie Morgan in the closing stages of Wednesday night's Capital One Cup semi-final second leg at Liberty Stadium. The Belgium playmaker lost patience when the ball boy refused to hand over the ball after it had gone out for a goal-kick.
Morgan fell to the ground as Hazard attempted to get the ball from him, with the 22-year-old then trying to kick it from under him but appearing to instead make contact with the youngster. And QPR manager Redknapp said: "Hazard toe-poked the ball under the boy's body. Why is the kid lying on the ball in the first place?"
He added: "You can imagine the frustration - you're a player trying to reach a cup final but there's this kid behaving like an idiot who won't give you the ball back.
"Hazard didn't kick the kid, he kicked the ball underneath him, but the whole thing got blown out of all proportion.
"I can think of a lot of players who would have kicked a bit harder than he did. He just toe-poked the ball away. The boy was tweeting before the game that he's a super time waster. The way he behaved was disgusting."
Morgan himself briefly broke his silence on Thursday night, tweeting: "Crazy 24 hours. Spoke to Hazard and I will not be pressing charges. Be in touch."
Despite that, South Wales Police have been obliged to continue investigating the incident after receiving three complaints.
"Three calls have been received from members of the public living in Sussex, Kent and west Wales which are being followed up," a police spokesman said.
Hazard was assumed to have avoided criminal charges when the matter was dropped after he and the teenager met and made mutual apologies.
Source: PA
Source: PA