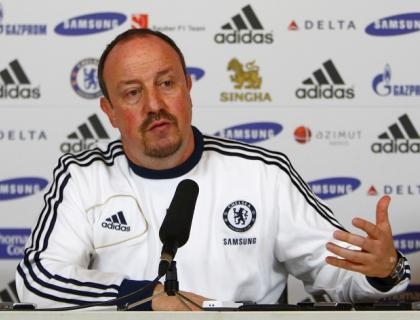 Ba's arrival at Stamford Bridge on Friday arguably provided Torres with the biggest threat to his position as centre-forward since Didier Drogba left the club last summer. Torres endured a wretched first 18 months with the Blues after finding himself in Drogba's shadow and his form has improved significantly since that competition disappeared.
But interim Chelsea manager Benitez had no fears that his fellow Spaniard would suffer a relapse following the signing of Ba from Newcastle. "He will be happy with good players around. The question is how many, and which names?" said Benitez.
Benitez, who was considering handing Ba his debut in Saturday afternoon's FA Cup third-round tie at Southampton and giving Torres a rest, added: "Demba Ba is a good option for us. We can manage both and it will be good for the team in the end. I was talking with Torres in the last couple of weeks and he said we needed more bodies."
Benitez suggestion that Torres's acceptance of added competition depended on the number and name of new arrivals hinted that the striker may have been less happy with the signing of a Radamel Falcao or David Villa.
The Chelsea boss nevertheless insisted Torres needed both competition and back-up following Daniel Sturridge's sale to Liverpool. He also refused to rule out play both Torres and Ba together in the same side, revealing a 4-4-2 formation was "an option".
Benitez sidestepped questions about whether Chelsea were right to start the season with just two recognised centre-forwards. "The main thing for me now is to manage the two strikers that we have," he said. "Two strikers should be enough for us, as we have other players around who can contribute."
Meanwhile, Benitez revealed his "surprise" that captain John Terry had gone public with his devastation about Frank Lampard's impending Chelsea departure. Lampard is currently set to leave Stamford Bridge when his contract expires this summer, with no sign of the Blues offering him a new one.
Friday saw Terry post a picture on his Instagram account of him and Lampard holding the FA Cup, accompanied by the comment: "Devastated is an understatement. We should retire the number 8 shirt in honour of Lamps. #theheartbeat #hero #legend #hero #goalmachine #friend #ktbffh (keep the blue flag flying high) #cfc #chelsea."
Benitez said: "I was surprised when they told me but that's it. I don't have any problem. We have to talk."
Source: PA
Source: PA