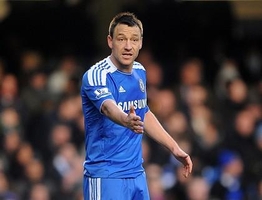 Much has been made of Andre Villas-Boas' rotation policy this season, which has seen the likes of Frank Lampard and Fernando Torres in and out of the side.
However, Terry admitted he would have a problem if any player was happy sitting on the bench, and told talkSPORT: "For me, whether you are young or old, you want to play every single week, regardless of the competition. That desire is what I want to see."
He added: "If there are some players in our squad who are unhappy that they are not playing, I would rather that than players prepared to tick along, collect their wages and not care if they are in the side or not.
"For me, it is a good thing to have, a passion and belief they should be playing.
"People have been making a big thing of certain players not playing, but we have seen that the likes of Frank is still one of our best players and also in the world, not only with his goalscoring but with the balls he puts through.
"Even though players are getting older, they still have a big role to play in this football club."
Chelsea head to Norwich for Saturday's lunchtime kick-off looking to put some pressure on the sides above them, who all play on Sunday.
"It is a really big weekend for all the top sides," the England captain added. "Spurs go to Manchester City, while Manchester United go to Arsenal, so maybe it is a chance for us to close the gap on the teams above us.
"However, Norwich gave us a good game at the Bridge, so on their pitch with their fans, it will be really tough. We have to make sure we are up for it."
Source: PA
Source: PA