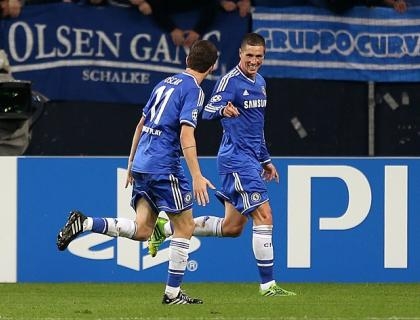 Torres was preferred to Samuel Eto'o to make his 100th Chelsea start and netted his 38th and 39th goals for the Blues following his £50million move from Liverpool before Eden Hazard added a late third.
The World Cup-winning striker has been much-maligned, mainly due to his hefty price tag, but Mourinho has belief in the ability of the Spaniard and was pleased to see his selection justified.
"What boosts him is the confidence he knows I have in him," Mourinho said.
"Samuel played a very good game against Cardiff and scored the winning goal.
"I thought Fernando was adapted to this game. I put faith in him and he answered well.
"It's good for him, it's a good feeling to score goals, winning goals in the Champions League."
After beginning the Champions League campaign with a surprise home loss to Basle, Chelsea now lead the pool following wins away to Steaua Bucharest and Schalke ahead of the return match with the Germans at Stamford Bridge on November 6.
Mourinho added: "After the first game we were last, because we lost at home, and now we are top of the group.
"Because of my experience I was not in hell after the first game and I'm not in heaven today. I'm calm.
"I know we have two matches at home (to come) and I know normally we are going to get enough points to qualify.
"In this moment, after six points, we can think first about qualifying, but after that, maybe, we can also think about finishing first in the group. That is what we are going to try (to do).
"We were under pressure after the first game, after the second game we found a balance and today, after this victory, we are in a good situation."
It was Mourinho's first Champions League win against a German team in Germany, although Gelsenkirchen was the neutral venue when he guided Porto to victory over Monaco in the 2004 final.
He added: "I knew that if somebody asked me, (they) only ask about half of the record.
"The record is always defeat in Germany, and I never lost at home against a German team."
Chelsea were playing on German turf for the first time since winning the 2012 European Cup in Munich and, like on that occasion, for large parts of the game had to absorb the pressure applied by their opponents.
After Torres' headed opener in the fifth minute, he completed a stunning counter-attack featuring Hazard and Oscar for the second before the Belgium forward's half-field dart and neat finish completed victory.
Mourinho was particularly happy with the performance of goalkeeper Petr Cech, defenders Branislav Ivanovic, Gary Cahill, John Terry and Cesar Azpilicueta and defensive midfielders Ramires and Frank Lampard.
"Everything started with the way we defended," Mourinho added.
"My goalkeeper, my four defenders and Rami and Lampard, they gave us fantastic stability.
"We had a difficult period in the first half, which a team always has, and in that period, the last 10, 15 minutes of the first half Schalke were really dominant.
"After that we were compact, we were solid. We controlled the game, we were always dangerous. My team deserved the points."
Schalke head coach Jens Keller was frustrated by the margin of victory.
"I don't think we lost that badly," Keller said.
"The early goal irritated me; we conceded a goal after just five minutes.
"After that the team tried everything, we had three or four chances and if you don't score against a team like Chelsea, things just aren't going to work out.
"Three-nil is a high result, but I don't think that's quite fair for a match that we saw."
Despite the loss, Keller believes Schalke, who won their opening two games, are well-placed in a group which also includes Basle and Steaua, who drew in Romania.
"We've got six points, the other game was a draw," Keller added.
"Right from the start we said Chelsea were the clear favourites, so we had to battle it out with the other two teams.
"This result is a little bit annoying because we could've got a draw out of it."
Source: PA
Source: PA