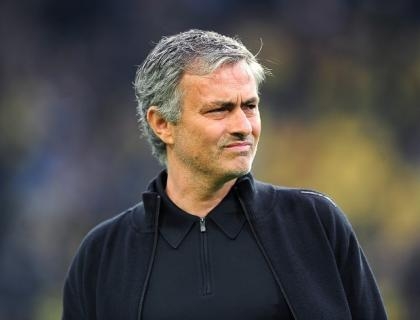 Madrid narrowly failed to reach the Champions League final despite a late fightback against Borussia Dortmund, winning 2-0 in the Bernabeu, but losing 4-3 on aggregate. It is the third year in a row that Madrid have fallen at the final hurdle under Mourinho's guidance, and it is thought he will not lead them into next season's campaign.
Speaking after the match, Mourinho denied he had made a definitive decision over his future, but made it clear he would relish the opportunity of a return to Stamford Bridge, where he managed Chelsea between 2004 and 2007. He told ITV: "Perhaps I won't be here next year, I want to be where I want to be."
He later told a press conference: "I haven't made a decision because I have a contract here [with Madrid]. In football people break contracts when they want to but more than the contract, its the respect I have for the club and for the players.
"I know that in England I am loved by the fans and the media, who are fair with me. They criticise me when they have to but give me credit when I deserve it. I know I am loved by some clubs, especially one, but in Spain it's a bit different, some people hate me, many of them are in this room [Spanish journalists], so its difficult for me because I like the club."
He stressed he would wait until the end of the season, including after the Copa del Rey final with Atletico Madrid, before deciding where he will be after the summer.
"I want to play the final, finish the season, win the final and finish second, and then sit down with Florentino Perez, my president and my friend," he said.
Late goals by Karim Benzema and Sergio Ramos were not enough for Madrid to eliminate Jurgen Klopp's side, who made it to Wembley thanks to their 4-1 win in the first leg in Dortmund. Mourinho admitted he was disappointed to not make the final, but defended his tenure at the club.
"It's not my culture to be satisified by not winning the competition but we know that its a difficult competition, you don't win it when you want to, you win when things go your way," he said. "I don't live for near achievements, nor does this club.
"But after the club won the three European Cups [in 1998, 2000 and 2002] Madrid entered a period of not even making it to the quarter finals. We weren't even seeded when I got here and my first worry was qualifying from the group stages. Sergio Ramos came here in 2005 but didn't play a Champions League quarter final until I got here. I have got the club to three semi-finals and earned them a lot of money in bonuses."
Source: PA
Source: PA