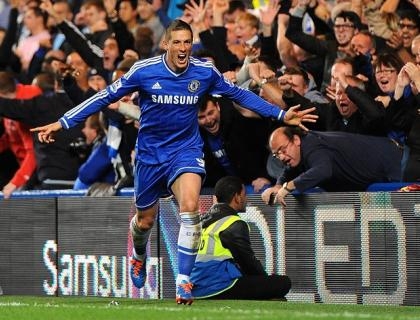 The Spain striker demonstrated his best and worst attributes and responded from missing a sitter to hit the crossbar and then net a 90th minute winner.
In a pulsating contest which saw a stunning Sergio Aguero strike cancel out Andre Schurrle's opener, set up by Torres, a rush of blood saw Joe Hart add to his recent catalogue of errors.
Torres exploited the mix-up between England stopper Hart and Matija Nastasic to score his first Premier League goal of the season and second of 2013 to seal a dramatic win.
"The goal comes in a very intelligent action by Fernando," Mourinho said.
"(A) misunderstanding by Joe and Nastasic, but Fernando was very clever the way he believed.
"Fantastic performance (by Torres) and even better because it was after an easy goal missed. That makes it even more valuable.
"When a striker misses an easy early chance, many times he's affected for the rest of the game.
"It looks like that moment was the moment where Fernando thought 'I will be the man of the match'.
"He's sharp, he's powerful, the belief is high. We are happy for him, but we are all happy because it's a very important victory against a team we couldn't beat last year.
"We played against them lots of times; even in friendlies we couldn't beat them."
Mourinho celebrated the goal and the extension of his unbeaten Premier League run at Stamford Bridge to 65 games by leaping into the crowd, where he finished the prior home match with Cardiff following his touchline dismissal.
The Portuguese entered the section of support behind the away dugout, where his son has a season ticket.
He said: "Chelsea is guilty because I want to buy a season ticket for my son and they give a season ticket for my son behind the opponents' dugout. They have to give my kid tickets behind my dugout.
"I promise that I went for him. But this is the drama of the last minute.
"Last year I beat Man City in the last minute in Madrid, I slid on my knees, I destroyed my trousers. I lost in the last minute against Bayern Munich, somebody put a knife in my back.
"This is emotion of the game. If they believe that my son is there, great.
"If they don't believe, I apologise if they feel that I did something wrong."
City boss Manuel Pellegrini was incensed and refused to shake hands with Mourinho at the final whistle.
Mourinho had no complaints.
"I don't feel it is a lack of respect," Mourinho said.
"If he was sad because of the result. I understand. If he was sad thinking that I was doing something wrong by going to celebrate there, I accept that too. No problem."
Pellegrini said: "I didn't shake hands. I didn't want to shake hands."
The Chilean was left to rue the further loss of "stupid points" away from home after defeats at Cardiff and Aston Villa.
He said: "We repeat the story. We had absolutely the control of the game, we played very, very well in the second half.
"We didn't have any problem with Chelsea but finally in the last minute we lost.
"We are losing stupid points from the beginning. The three defeats that we have away we did not deserve one of them.
"The reality is that we have. We have time to (respond).
"I'm very happy with how the team is playing everywhere, at home or away.
"Today in a very difficult stadium here against a great team we had the control and we did a very good game."
Pellegrini refused to openly discuss the errors which resulted in Torres' winner, with Hart's worrying list of mistakes growing.
"I do it privately with the players," added Pellegrini, who declined to answer questions specifically related to Hart.
If Hart's confidence is low, Mourinho felt Chelsea had a similar mental block with regards to City after studying every meeting between the sides in the 2012/13 season, including the post-season friendlies in St Louis and New York, in the build-up to Sunday's match.
Mourinho was overjoyed with the first half performance, in particular.
"(Chelsea were) afraid to say 'we want to win, we can win'," Mourinho added.
"We played very, very well. If we can play like this against Man City, why can't we play like this in every match in the Premier League? That is the self-esteem we need.
"We played fantastic against a fantastic team. And that's not easy. We were better than them. And that's not easy."
Source: PA
Source: PA