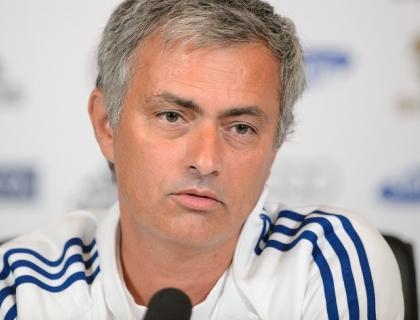 The Blues finished 25 points adrift in sixth when Sunday's opponents Manchester City won a first championship in 44 years in 2012 and 14 points behind in third when Manchester United triumphed last term.
Mourinho led Chelsea to a first championship in 50 years in 2005 and successfully defended the title, but the Blues have won one Premier League since, in 2009/10 under Carlo Ancelotti.
Mourinho was unable to give a reason for the seasonal blip but did offer a reassurance it would not be repeated this term.
"I don't believe in curses," Mourinho said.
"We have matches to play, lots of matches. We have six matches in November, plus the Capital One Cup match, which is the end of October, plus two matches in the national teams, which makes nine.
"Nine matches in a month. For sure we can't win nine. That's for sure. Maybe we lose, maybe we draw.
"For sure we keep the balance. The same way we keep the balance when we lost against Basle.
"(But) I'm not looking to November, December, I'm looking to tomorrow and tomorrow is still October. After, we will see what happens."
Chelsea are a point better off than Manuel Pellegrini's City after eight games and enter the contest on the back of a seven-match unbeaten run which has included 14 goals in their last four games.
The contest is one of the most eagerly awaited of the season so far, pitting squads lavishly assembled by Roman Abramovich and Abu Dhabi's Sheikh Mansour, one of the few men in the world with more disposable cash than the Russian oligarch.
But Mourinho is relaxed about the outcome in the overall context of the season.
"We are going to play our game and let's see if our game is enough to win against them," the Portuguese said.
"We want to win. To win is good, to lose is not good.
"(But) in this moment, with the way the Premier League is going week after week, no result will put a team in a great situation, no result will put a team in a difficult situation.
"It's a big team, yes, it's a very good team, but every match is a test and every match is three points."
Source: PA
Source: PA