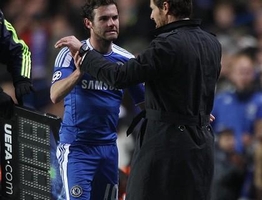 The Blues are in a real battle just to qualify for the Champions League this season and Spaniard Mata, signed from Valencia in the summer, admits that the two Manchester clubs are in pole position for the title.
Mata told Marca: "It's true we've had a little crisis of results, but Villas-Boas is doing things very well and both the players and the club have a lot of confidence in him. He won everything with Porto last year."
He added: "I get along with the coach and he tries to talk to every player in his own language.
"I'm very happy in England and it's surprising how easily I've adapted as changing team is never easy.
"It's clear however that Manchester City and Manchester United are the favourites to win the Premier League.
"I phoned David Silva to tell him to make City put on the brakes a bit but they are not doing so!"
Mata also backed fellow Spain international Fernando Torres to put his miserable first year at Chelsea behind him - the striker was praised by Villas-Boas after his part in the victory at Wolves on Monday.
Mata added: "Torres was very good in the last game. He wanted to play a full game, is training hard and wants to contribute to the team.
"He can rest assured that the team and the coach all have confidence in him. I'm sure he will score many goals for the club."
Source: PA
Source: PA