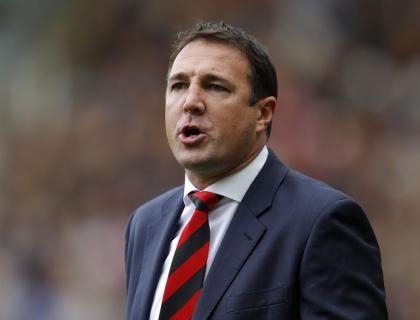 Chelsea cancelled out the Cardiff opener, scored by Jordon Mutch, when Samuel Eto'o robbed David Marshall as the goalkeeper bounced the ball, and Eden Hazard netted.
Following the match, Mackay approached referee Anthony Taylor about the incident, but prior to viewing the replay.
"I've got to be careful what I say, because I'm certainly not intending having money taken from me," Mackay said.
"I did go in to ask for clarification of the ruling and what the referee and linesman saw.
"The explanation leaves me really disappointed, because I've since looked at it and the explanation was that they felt the goalkeeper dropped the ball.
"My goalkeeper bounced the ball. He saw Samuel Eto'o standing next to him and he bounced the ball.
"They (the match officials) thought he didn't have the ball in his control and he dropped it and the ball was in open play. That's a mistake."
Mackay asked if a foul would have been awarded if Marshall had been bouncing - and therefore in control of - the ball and was told yes by the officials.
Asked why Marshall chose to bounce the ball with Eto'o lurking, Mackay said: "Because he's allowed to bounce the ball and Eto'o's not allowed to touch the ball."
Mackay added: "(Marshall) said he saw Eto'o standing next to him and he knows the rule. He knows he's allowed to bounce the ball and that's why he bounced it."
Chelsea went on to claim an emphatic win, with Eto'o scoring his first Blues goal and substitute Oscar and Hazard adding to the score, but Mackay felt the equaliser was a significant moment.
The Scot said: "It is a large factor. We were beaten (4-1), but I don't make any apologies for being beaten (4-1) rather than (2-1).
"At 2-1 we had to go to try to press and get back into the game. I felt at 1-1 we were excellent value for the way we were playing."
After a fraught international break in which his head of recruitment Iain Moody was replaced by 23-year-old Kazakhstani Alisher Apsalyamov on an interim basis, Mackay was pleased with his side's performance.
"I was very proud of the players," Mackay said.
"I thought we played really well, the way we set up and the way we played for most of that against one of the top teams in the league and one of the teams who are going to be challenging for the title."
Mourinho deferred to assistant Steve Holland for post-match media duties after being dismissed from the touchline for berating the officials to a chorus of "Jose Mourinho, he sits where he wants".
The manager took his seat behind the dugout and next to a surprised fan, who took a photo of himself alongside his neighbour and posted it on Twitter.
Holland insisted Mourinho was right to be frustrated by the perceived time-wasting of Cardiff.
"His frustration was clear and, in my opinion, totally justified," Holland said.
"Why would it take an hour before finally an issue was addressed? He showed his frustration and then was sent to the stands."
Mourinho and Holland told fourth official Trevor Kettle of their unhappiness with Cardiff's tactics on "countless occasions", without it being acted upon.
On the controversial equaliser, Holland said: "From my point of view, it looked to me like the goalkeeper was bouncing the ball.
"The referee had a very clear view of it and was happy with it and we move on.
"Over the course of the season, those things go one way or another for you."
Holland praised Chelsea for responding to a defensive lapse which allowed Mutch to put Cardiff in front, when David Luiz left the ball for Petr Cech, who was making his 300th Premier League appearance.
"It wasn't a good start for us," the assistant boss said. "The players responded very well from that."
Eto'o scored his first Chelsea goal on his sixth appearance in the second half and Holland hopes for more at Schalke in Tuesday's Champions League Group E clash.
Holland said: "All strikers like to be scoring goals. It's what helps to make them tick and to get off the mark will I'm sure be something he's very, very happy about. Hopefully we get the benefit of it immediately."
Source: PA
Source: PA