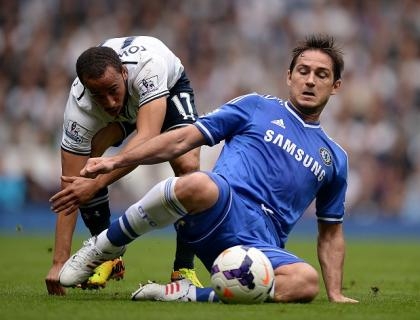 After defeat to Basle in their opening match, Jose Mourinho's side must win at the National Arena on a pitch sodden by torrential rain despite the presence of a canvas roof.
Chelsea played Steaua en route to winning the Europa League and Lampard hopes to avoid a repeat of the March defeat.
"You can never underestimate any team in the Champions League," Lampard said. "In the first game we didn't perform well, we lost. That's what happens. "(But) we've got five games now to go, five games to put that right. That's a lot.
"We don't expect an easy game. We're lucky to have played Steaua Bucharest last season so we're fully aware of the good team they are. Last year we started slowly and we lost the game in the first half.
"Considering the position we're in now - we need a result - we have to start the game at a top level."
Mourinho, too, appeared keen to take care of matters swiftly on the eve of the contest, his mood imitating the stormy weather as he shortened his pre-match media conference.
The Portuguese took exception to a question about absent forward Kevin de Bruyne.
With Juan Mata informed he will start in Bucharest after beginning the season as a peripheral figure, De Bruyne was told he was not required and was left at home alongside his fellow Belgian Eden Hazard, who has an ankle injury.
"This is fantastic because nobody asks me about Mata," Mourinho said. "You are for three weeks speaking about Mata, and now you are speaking about Kevin de Bruyne.
Source: PA
Source: PA