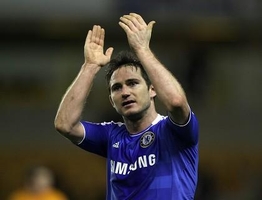 The veteran midfielder also warned it is vital the Blues retain the team spirit built during a decade of success if they are to stay a major force and challenge again for honours.
Lampard said: "If you don't play well enough then you don't get results. It's difficult now. You saw Blackburn against (Manchester) United, Sunderland against (Manchester) City. Teams aren't mugs. They're all set up very well and, if you're not at your very best, you won't win games."
The England international arrested a slump which saw Chelsea take just three points in four games in December when netting Monday's last gasp winner at Wolves - his ninth goal of the campaign, and one that moved Chelsea back into the top four after Arsenal's shock defeat against Fulham.
And when asked for the reasons behind the slump, Lampard added: "It's a mixture of things. Once you lose little bits, and get a couple of bad results, trying to turn that corner becomes even harder.
"Sometimes it takes a result like this against Wolves but we must carry on from here and keep that winning mentality, that fight and that desire. You saw that when the tackles were flying in during the first half. We stayed with it and we got what we deserved."
There has been speculation suggesting Chelsea's players have been questioning Andre Villas-Boas management style, but Lampard said: "The team spirit's okay, I just think that when you're losing games it's the first thing people look at.
"That takes the big players in the dressing room and everyone collectively to stand up and make a difference which I think we did against Wolves.
"That has to be there. It's something we've prided ourselves on at Chelsea for many years.
"It won us titles and won us a lot of things. It's something we can't lose. If you do lose that, then you can't be at the top. "
Source: PA
Source: PA