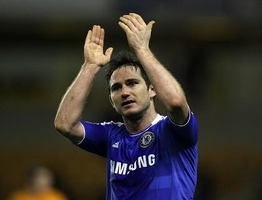 Lampard is one of the senior players who is no longer a definite for the first team under Andre Villas-Boas. He responded to a rare start against Wolves on Monday night with a late winner which pushed the Blues back into a Champions League spot.
But that is the minimum requirement for Chelsea in Lampard's eyes and admits he has "got the hump" with their failure to challenge for title honours this season. He said: "The spine of the team is what's made us what we are over the past seven years. We need those big players like John Terry who was magnificent at the back against Wolves."
Lampard added: "I think it's important whether [or not] we're changing the team. Of course, I understand that things change with time. But what we're about is that spine to an extent.
"It's nice to see big players who've been there a long time producing the goods."
Chelsea went into the New Year outside of the top four for the first time in 10 years before the win at Molineux - and Arsenal's defeat at Fulham - saw the positions of the two clubs reversed.
Lampard said: "I get the hump looking at the table and seeing we're not fighting within a point or two of the leadership.
"We all have to have the hump with that and make sure we react.
"The players in this squad need to be fighting for the League, and now there's a big gap.
"You have to have that mindset, because the minute you lose that mindset, that's the minute you become a top-four team as opposed to a team that's challenging for the title."
Source: PA
Source: PA