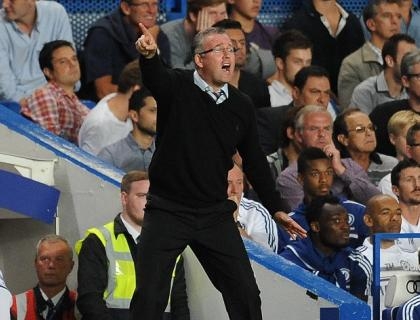 Lambert and Mourinho spent the 90 minutes bickering in the technical area and were in disagreement afterwards over two of the major talking points.
Branislav Ivanovic avoided a red card for catching Christian Benteke with a flailing arm before scoring the winner, while Lambert felt referee Kevin Friend should have awarded Villa a stoppage-time penalty when the ball made contact with John Terry's arm in the area.
Lambert said: "It's easy to sit here with sour grapes and all that sort of thing, (but) I thought my team were outstanding.
"I don't think we deserved to lose the game. I think we've been done by two big decisions that were wrong.
"I don't think you can miss those ones, not big decisions like that. They're big game changers.
"My team never deserved that."
On the incident which saw Ivanovic booked for catching Benteke, the scorer of Villa's goal, Lambert said: "I think it's an elbow. I know it's a physical game and all that, but I think it's an elbow."
And for the late penalty shout, the Scot said: "It was a handball. It's there for everyone to see. (Gabriel) Agbonlahor's won the header and John Terry, good player, but you raise your hand in the penalty box, I think it's a penalty."
Mourinho, whose side went in front after six minutes through an Antonio Luna own goal, dismissed Lambert's complaints.
Source: PA
Source: PA