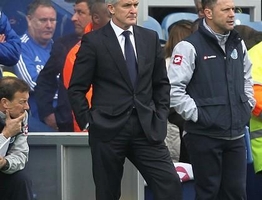 The Football Association gave the clubs permission not to undertake the usual handshake routine prior to the fourth-round tie at Loftus Road, which saw Chelsea progress 1-0 thanks to Juan Mata's 62-minute penalty.
Rangers boss Hughes revealed he held a meeting with his players on Friday night at which some of them suggested they would be prepared to join Ferdinand in snubbing Terry. He said: "There could well have been an issue but players make their own decisions."
He added: "I said Anton was the guy who had to make his own decisions for himself about whether or not he shook John Terry's hand.
"With the group I have got I know they wanted to support their team-mate and the situation in the end was to take it out of the equation and not to have the issue."
The decision spared Anton Ferdinand having to shake the hand of Chelsea captain Terry, who has been charged with racially abusing his fellow defender and faces a court case that begins on Wednesday.
Blues manager Andre Villas-Boas knew nothing of suggestions more than one QPR player would snub Terry and revealed he only learnt there would be no handshakes 45 minutes before kick-off.
But despite having insisted it was "extremely important" Ferdinand and Terry shook hands, Villas-Boas said: "It was a wise decision bearing in mind the expectancy that was aroused from the fact that a couple of events could happen in that handshake. It was wise not to do it because it could have an impact on crowd behaviour."
Both managers praised their respective players for their performances, with neither Terry nor Ferdinand putting a foot wrong.
Villas-Boas said: "Individually from John, it was an excellent performance, very, very focused, managed to get the off-the-field events out of his mind and concentrate on his job."
Source: PA
Source: PA