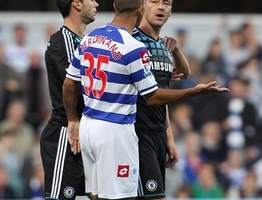 The Football Association gave the clubs permission not to take part in the traditional pre-match handshake, amid uncertainty as to whether Rangers defender Ferdinand would snub Terry.
The Cup game was the first time the two sides had met since Terry was charged with racially abusing Ferdinand during October's Premier League game between the two. Terry has denied the offence and Ferdinand was reportedly agonising over whether or not to accept his hand.
The FA released a statement to Press Association Sport, which read: "Following discussions on Friday evening and Saturday morning involving senior officials from QPR, Chelsea and the FA, it has been agreed there will not be the usual team handshake before today's FA Cup fourth-round tie at Loftus Road.
"The FA agreed to the request by both clubs in an attempt to further defuse tensions before the match."
Those tensions were raised on Friday night when Metropolitan Police announced they were investigating a "malicious communication" sent to QPR and addressed to Ferdinand.
There were reports the package contained a bullet but the contents remained unconfirmed by both police and the club on Saturday afternoon..
But the matter was serious enough to prompt Rangers and Chelsea to announce all fans entering Loftus Road would be subject to "full searches" before entering the ground.
Stewards were seen using handheld metal detectors, with some donning protective goggles, while there was a heavier than usual police presence.
Source: PA
Source: PA