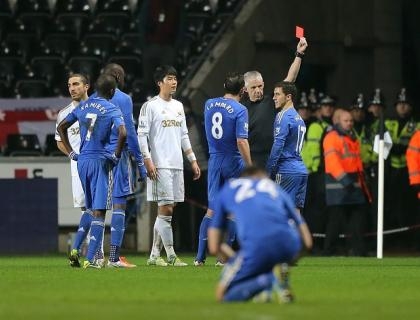 Hazard was dismissed by referee Chris Foy after losing patience during the closing stages of the match at the Liberty Stadium on Wednesday night, when ball boy Charlie Morgan refused to hand over the ball after it had gone out for a goal-kick.
Morgan fell to the ground as Hazard attempted to get the ball from him, with the Blues midfielder then trying to kick it from under him but appearing to instead make contact with the youngster.
Hazard avoided police action over his conduct after 17-year-old Morgan and his father, Swansea's largest shareholder Martin, decided not to take the incident no further.
Hazard and Morgan also apologised to each other in the Chelsea dressing room after the final whistle.
The Football Association said it was continuing to review footage of the incident and the Belgian's automatic three-match ban for violent conduct can be increased in "exceptional circumstances".
Swansea will not face any action over Morgan's role in the incident, as any complaint of time-wasting is considered an issue to be handled by the officials during the game.
Swansea stated after the game they had not told their ball boys to delay giving the ball back to the players, although Morgan had used the words "needed for time-wasting" in a post on his Twitter account - which has rapidly acquired some 90,000 followers - a few hours before kick-off.
It is not the first time that Hazard's frustrations have got the better of him - in 2011 he stormed out of the stadium after being substituted during a Euro 2012 qualifier for Belgium and was filmed tucking into a burger from a van outside.
Source: PA
Source: PA