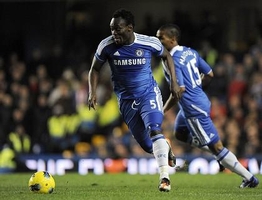 Essien was a surprise substitute in Saturday's 1-0 Barclays Premier League win over Sunderland, having spent six months on the sidelines after rupturing a cruciate ligament in his right knee during pre-season training.
It was the third such major injury in three years for the 29-year-old, but he told Chelsea TV: "It's been a long while but I'm always positive and I knew I would come back stronger. That's what I did and I was happy to be on the pitch again."
Essien, who is in contention to start Chelsea's game at Norwich on Saturday, added: "It's always good to be back after such a long injury, so I'm very happy to be back."
The Ghana star, who did not return in time to make his country's African Nations Cup squad, admitted patience was the key to his latest comeback.
"We didn't rush anything, we take every day as it comes," he said.
"My physios and doctors are there for me, I've been working hard and I think the hard work has paid off."
Source: PA
Source: PA