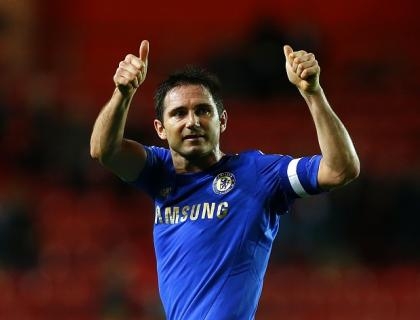 Terry close to Blues return

Chelsea captain John Terry is closing in on a first-team return and could be involved at Stoke this weekend, interim manager Rafael Benitez has revealed.

The 32-year-old has not featured for the Blues since the 1-1 draw with Liverpool on November 11 following a collision with Luis Suarez.

Terry had been expected to be out for three weeks but is only now closing in on a return two months on.

The centre-back is due to face Fulham with Chelsea's Under-21 team on Thursday evening, which Benitez admits could see him return to the first team at Stoke on Saturday.

"John Terry has been training and we are considering playing him on Thursday with the Under-21 team," the Spaniard said.

"The good thing he is now training so now he can carry on. We will see how he feels on Thursday and hopefully he can play more minutes in the short-term so we will see.

"At least that is a positive thing because before he was just doing the warm-up. Now he is training and can play so I think we are obviously closer."

Asked if he could be involved against Stoke, he added: "It depends on his reaction. Obviously Thursday will be a different kind of game but we will see how he feels.

"If he can feel okay and train the day after, at least we can start considering him as an option."

The Capital One Cup semi-final with Swansea will come too soon for the Chelsea captain, though.

Terry will be joined on the sidelines by Petr Cech, while Victor Moses and John Obi Mikel are also unavailable for the first leg at Stamford Bridge.

"We want to win all the games," Benitez said. "In any club it is important but especially when you are challenging and fighting for trophies.

"We know it is the semi-final and we will try to be in the final. We have a lot of respect for Swansea because it is a good team and they are doing well, but this will be an interesting game for the fans."

Meanwhile, Michael Laudrup believes his Swansea side will benefit from being on the road in the first leg of the semi-final as they chase a first appearance at a major Wembley final.

Given Bradford and Aston Villa are the other sides left in the competition, Swansea fans could be forgiven for cursing their luck when they drew Benitez's Blues in the last four.

The Swans have never previously got to this stage of the League Cup, although they did reach the last four of the FA Cup in 1964, although there will be few expecting them to triumph over two legs against a Chelsea squad including Demba Ba, Juan Mata, Eden Hazard and Frank Lampard.

But Swansea have a good home record against the Premier League big guns and have twice drawn 1-1 with the Blues at the Liberty Stadium, but their only visit to Stamford Bridge since returning to the top-flight ended in a 4-1 defeat.

Laudrup knows a repeat scoreline on Wednesday night would effectively end the tie, but is excited at the prospect of being able to bring the Blues back to south Wales with the tie still in the balance.

He said: "I always preferred being away first in these games. I have done both as a manager and a player and if I had to choose I would prefer to play away first.

"The different thing is it is not a complete game, it is only the first half and we play the second half here in two weeks' time.

"It is difficult to play a game when you know you have another one to come, but we know it is important to get a result so we can play the second leg here in front of our fans with the possibility to go through.

"It will be difficult, we know that. To beat Chelsea in one game is difficult, over two games it is even more difficult.

"But we have to give it a try, and we will give it a try and I hope the confidence we have built up in recent weeks can help us."

Gerhard Tremmel is set to start in goal. The German has played throughout the run to the last four and Laudrup feels Tremmel has earned the right to keep his place ahead of Michel Vorm.

Angel Rangel should be available after a calf problem, while Pablo Hernandez, Ashley Williams and Michu should all return to the starting line-up.

Source: PA
Source: PA