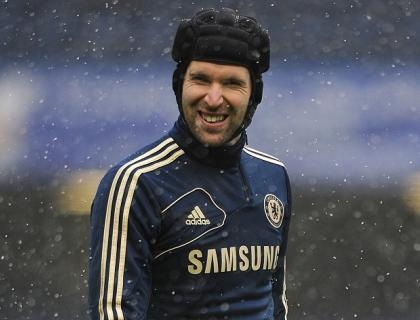 Wednesday's exit from the Capital One Cup, after failing to score in either leg of their semi-final with Swansea, means the Blues have already missed out on five competitions this season, with the Community Shield, UEFA Super Cup, World Club Championship and Champions League added to their League Cup exit.
Rafael Benitez's side also trail Premier League leaders Manchester United by 11 points, and goalkeeper Cech has placed the blame for their predicament squarely at the feet of their forward players. "It was disappointing because we didn't score against Swansea," the 30-year-old said.
While Benitez has defended Fernando Torres, who has now gone eight games without a goal, the interim boss opted to go with Demba Ba up front at the Liberty Stadium knowing his side needed at least two goals, and appeared reluctant to introduce Torres as a substitute.
The former Inter Milan boss insisted his selection was simply down to rotation, but Cech knows, regardless of who plays up front, Chelsea must improve in front of goal to ensure they do not allow opponents back into games.
Cech added: We knew that we had to score to have a chance to progress, but we didn't and it is a pity. Even when we played our game in hand in the league against Southampton, instead of killing the game off we played on and on and they managed to score two goals. I think we need to be more efficient in front of goal because we are having chances.
"We have a lot of shots in the games but we need to score more goals than that. In the last few games we haven't killed the games off. Against Arsenal it was the same story. We had to fight until the end of the game because we didn't take our chances to kill off the game. We need to be more clinical in front of goal."
Chelsea will look to make amends when they travel to face Brentford in the FA Cup on Sunday. And Cech hopes to see a response from their League Cup disappointment in a competition Chelsea have won in four of the last six seasons.
He said: "We want to keep the record going and we are the defending champions. We would like to defend the trophy.
"We know how hard it is every time, but it is a fantastic competition and we have a lot of players who experienced it for the first time last year and I think it will be the motivation for everyone. It is a London derby, it will be a big game for Brentford but we should be ready."
Source: PA
Source: PA