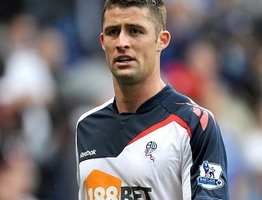 The England defender was in London overnight and looks set to end two weeks of uncertainty over his future by joining the Blues.
It is more than a fortnight since Bolton accepted a £7million bid from Chelsea for their prize asset, whose contract expires at the end of the season.
Negotiations initially looked to have hit a snag when Chelsea boss Andre Villas-Boas revealed club and player were "miles apart" in terms of Cahill's salary.
Reports suggested Cahill was looking for £100,000 a week, with Chelsea hoping to settle for something closer to £70,000.
The club are looking to reduce their overall wage bill due to the Financial Fair Play regulations but the two parties now appear to have come to a satisfactory conclusion.
Speaking on Friday, Villas-Boas appeared confident of a positive outcome "this week" and refused to criticise Cahill or his representatives for the delay.
"It's part of negotiation," Villas-Boas said. "I'm sure all parties are protecting their interests and we'll reach an agreement."
Cahill, 26, would be Villas-Boas' first January signing, bolstering the problematic central defensive area.
QPR target Alex is out of favour and has not been considered for first-team action since being made available for transfer and Branislav Ivanovic has been injured, while both David Luiz and John Terry have been short of their best this season.
Source: PA
Source: PA