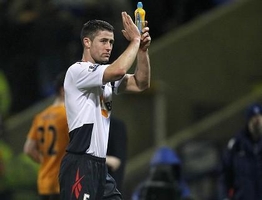 The two clubs agreed a fee for the defender last week but Cahill has stayed in the north west and played in crucial games against Wolves and Everton. He will be rested for Saturday's FA Cup third-round trip to Macclesfield, and it appears almost certain Cahill's last act as a Bolton player will be the winning goal he scored at Goodison Park on Wednesday.
Coyle said: "Gary Cahill will be one of those to miss out on the game, and it's nothing to do with the continuing speculation regarding Chelsea. He's one of a number of players that probably needs to rest given the amount of games they've played."
He added: "And moving on to that, my own opinion is I think there's a chance the deal can be concluded by the end of the week. That's where we're at but I'm not a party to any continued dialogue between Chelsea and Gary's representative.
"They were respectful of the other night, the fact we had a big game against Everton and that kept Gary focused and he showed his quality by doing that in the game."
Coyle, meanwhile, again denied any other club have come in for Cahill after speculation Manchester United were interested.
The Scot said: "When there's continued conjecture and everything that goes with it people are always going to throw up names. There hasn't been any dialogue between ourselves and Manchester United or anything like that.
"We as a football club agreed a deal with Chelsea Football Club and for me that's binding. The only way that will fall down is if the relevant parties don't agree. But my own feeling is I'm pretty sure they can get to a place that they're all happy."
Source: PA
Source: PA