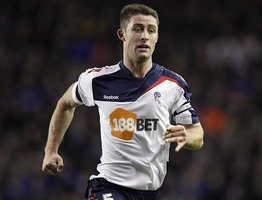 The deal taking the England defender from Bolton was held up amid wrangling over personal terms, meaning he was limited to a place in the stands during Saturday's clash with Sunderland.
But having enjoyed a 1-0 win - and the adulation of the Blues fans - on that occasion and then joined his new team-mates in training after finally signing on Monday, he is eager to be involved against Norwich this weekend. "Sitting on the side and watching, you see how big this club is," Cahill told Chelsea TV.
"It's a massive club. It was fantastic to get the win, 1-0, and it's a great atmosphere. Any player, when you're watching, you just want to go play - I was ready to get down there and get my boots on and play in that arena."
Despite Bolton's evolution under Owen Coyle, the move from Lancashire to London will bring with it a change in footballing philosophy, but one Cahill is prepared for.
"At times at Bolton we were more direct, but if anyone's seen (my) England games, I like to play from the back," he said. "It suits me more and hopefully I can adapt well."
Cahill should also be able to adapt easily to playing in a defence which features international colleagues John Terry and Ashley Cole. Terry described Cahill as "a great addition", adding: "I'm looking forward to playing alongside him".
And the feeling is mutual, as Cahill continued: "I was over the moon to make my England debut, and coming in alongside John was even more special.
"The squad is full of top international players so I'm under no illusions, it'll be hard to get in the team and keep hold of the shirt. There's a mixture of some young boys, like Daniel Sturridge, and the experience of people who've won things.
"It's a fantastic squad and I'm glad to be a part of it, and hopefully I can help move the club forward. Playing with that quality of players can only do you good, playing alongside them can only make your job easier."
Source: PA
Source: PA