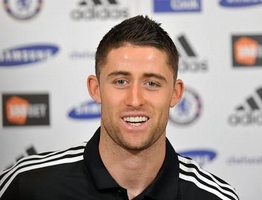 Cahill completed a ?7million switch from Bolton after finally agreeing personal terms, but was not included in the squad for the Barclays Premier League goalless draw at Norwich. The England defender, 26, jetted out with the rest of his team-mates to Majorca for some warm-weather training and believes the trip has been a good bonding exercise.
"It has been a mad couple of weeks for me hasn't it?," Cahill said. "I came in on the Tuesday, trained for just a few days before the game at Norwich and then we came straight over on a plane to Majorca. Training has been really good and it has been enjoyable to get to know the lads - I know everyone a lot better now."
Cahill continued on www.chelseafc.com: "The trip has definitely helped me.
"I have only been here just over a week, so I've obviously still got to get to know the lads a lot more than I do now, but it's been great because we've spent most of the time together and I've got to know them a lot better than if I was back in England.
"There are a lot of different characters here, definitely - most of all because of all the different nationalities.
"That's the one thing that's really different here and in that sense it's really good - there are some entertaining characters and they're great guys."
Frank Lampard has been doing some rehabilitation work after suffering a torn calf muscle at Carrow Road last weekend, but is not expected to be included against QPR.
Chelsea will return to England aiming to defuse what is potentially an explosive west London derby.
The clubs issued a joint statement to warn their supporters that "abuse and discrimination has no place in football or society" as the teams prepare to meet for the first time since a controversial clash in October.
Source: PA
Source: PA