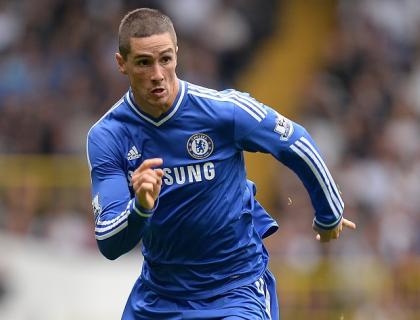 Torres, who earlier on Tuesday received a Football Association disciplinary reprieve following his altercation with Tottenham defender Jan Vertonghen, started for a third successive game but lasted just 11 minutes before being substituted after failing to shake off a blow to his left knee.
Chelsea recovered to make amends for the round one loss to Basle and last season's Europa League defeat at the home of the Romanian champions with a comprehensive triumph.
Blues boss Jose Mourinho confirmed Torres will not be available to link up with Spain following Sunday's match at Norwich, for which he is suspended following his dismissal at White Hart Lane.
"The doctor is very confident it's not a big injury, like we had with Marco van Ginkel (who is out for six months)," Mourinho said.
"It's something in his knee, his ligament, and we have to wait for the scan tomorrow.
"He knows that he doesn't play against Norwich. He knows that he cannot go to the national team.
"He knows he has 15 days until the next match he can play, which is against Cardiff. Let's see the scan. If the injury is an injury for 15 days, I think he'll be fine. That's okay.
"The problem is if it's more time and it's a pity for the guy, because he's in a very good moment. He played fantastic against Tottenham.
"Today he started the game because he deserved to start the game. It's a pity, but that's football."
Source: PA
Source: PA