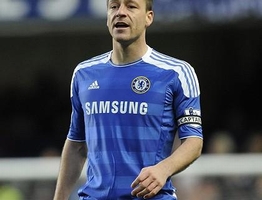 Blues and England captain Terry has continued to play for both club and country since it was first alleged that he racially abused QPR defender Anton Ferdinand during October's Barclays Premier League game at Loftus Road.
Terry has faced jeers and taunts since then, never more so than during his return to Rangers on Saturday, four days before his court case was due to begin at Westminster Magistrates Court. Terry denies racially abusing Ferdinand, and should a magistrates trial take place during the season, Villas-Boas will consider allowing Terry to take time off. He said: "Eventually, if it is important for the justice, we will do it."
But Villas-Boas insisted he would continue to play his captain as long as he continues to display the kind of form he showed on Saturday, with the defender not putting a foot wrong in Chelsea's FA Cup fourth-round 1-0 win.
"You have seen with the off-field events, we haven't stopped using John, and his level of performance has not been affected," he said. "If that continues to be the case, we will continue to do it."
QPR fans were merciless in their abuse of Terry but he wisely chose not to react.
Villas-Boas said: "He is a player that has been through various situations, situations of stress and great, difficult atmospheres.
"Bearing in mind the events that have happened in the past, he showed that this was just another game for him and he was just interested in football. He had an extremely good performance."
Source: PA
Source: PA