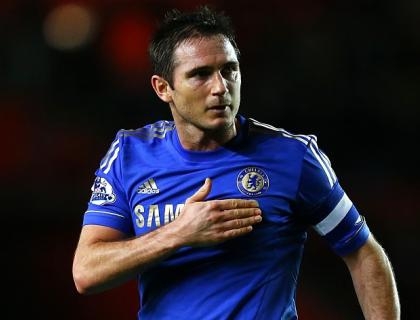 The 34-year-old has been the subject of rife speculation in recent days and weeks, with his contract at Stamford Bridge due to expire in the summer. Lampard's agent Steve Kutner has claimed the midfielder will not be offered a new contract by the west Londoners under any circumstance, while reports suggest Manchester United are plotting a deal.
Such a move would devastate Chelsea's fan base and was not something Benitez was willing to even comprehend. "I think it's too early to talk about teams and the future," the Spaniard said. "Frank is under contract and playing for us. That's it. You know my idea. He's doing well, working very hard and I will try to bring the best from him."
Benitez continued: "My position is exactly the same and if he can carry on scoring goals, I will be really pleased. And if Frank can carry on scoring goals and we can win games, I'll be even happier."
Wednesday's Capital One Cup semi-final with Swansea will come too soon for the Chelsea captain, though. Terry will be joined on the sidelines by Petr Cech, while Victor Moses and John Obi Mikel are also unavailable for the first leg at Stamford Bridge.
"We want to win all the games," Benitez said. "In any club it is important but especially when you are challenging and fighting for trophies. We know it is the semi-final and we will try to be in the final. We have a lot of respect for Swansea because it is a good team and they are doing well, but this will be an interesting game for the fans."
The cup clash kicks off a period of eight games in 25 days for Chelsea, which will test Benitez's squad to the maximum. Reports of January reinforcements are rife, with Metalist Kharkiv's Taison supposedly close to a move to Stamford Bridge.
"You know and we know we will see a lot of names in the newspapers," Benitez said. "Sometimes it is because it's true, sometimes it's the agents, sometimes it's because they don't have anything to talk about. It is normal in the transfer market but for us we just concentrate on football and playing Swansea."
There has also been talk that Chelsea are planning a summer move for Everton's Marouane Fellaini - another link Benitez was coy about.
"I am really pleased with my squad, with my players, they are doing well and hopefully we can improve them," he said. "I will not talk about the market, sorry. I know it is January but we do our business between us. If we have to do something, we'll do it. I have to respect and trust my players. That's what I will do."
Source: PA
Source: PA