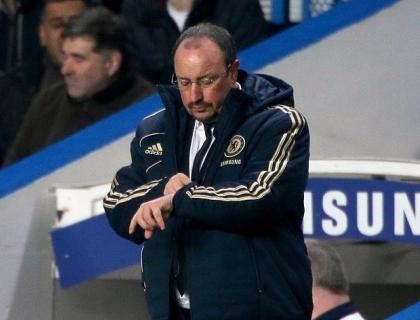 The Blues have chalked up six wins on the road during Benitez's reign, but they have only managed one victory in six attempts at their west London home. Chelsea's latest bout of home sickness came on Wednesday night when they feebly surrendered a two-goal lead to emerge with only a point against lowly Southampton.
Benitez, who only won at Stamford Bridge once in 12 attempts during his time at Liverpool, said: "It was always tough, always difficult when I went to Stamford Bridge (as Liverpool boss)."
Benitez, whose only home victory in the league was an 8-0 thrashing of Aston Villa on December 23, added: "We will try to make it the same. It was (like that) for Aston Villa. After that everyone was scared."
Due to Roberto Di Matteo's iconic status at the club, and Benitez's history with Liverpool, Chelsea's fans have never taken the Spaniard to heart despite his relatively successful reign at Anfield, where he won the Champions League in 2005.
The scale of barracking from the Chelsea support towards Benitez has intensified in recent weeks and the Blues supporters also appear to have lost faith in Fernando Torres after two years of unwavering support despite the striker's poor form in front of goal.
The crowd's animosity has led often led to a spiky atmosphere at the west London ground, and there is a good chance the fans will turn on Benitez and his men again should they not beat Arsenal on Sunday. But Benitez denied the criticism from the stands was the reason behind his team's slump at home.
"The atmosphere doesn't affect the players. We are professionals and we concentrate on our job," Benitez added.
"If we win, I'm sure they'll be happy. It's a question of the tactics of other teams, if they're deep or not. Arsenal are a top team. They won't be 11 men behind the ball on the edge of the box waiting. It's a different kind of game."
Source: PA
Source: PA