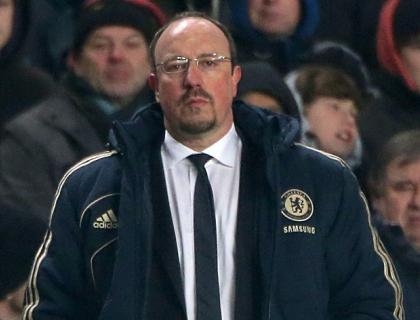 Chelsea led 2-0 at half-time, courtesy of goals from Demba Ba and Eden Hazard, and appeared to be cruising to a first home win since before Christmas. But Rickie Lambert pulled Southampton back into the game with a header three minutes after coming off the bench and Jason Puncheon then secured a 2-2 draw with a brilliant volley.
"We should have won," Benitez said.
"We didn't take our chances when we had them. I said we would have to be more clinical and (this) was the same. We had situations where we could score. We didn't and they broke on a counter-attack. We gave them hope they could score and they did it. I was talking to the team at half-time, trying to say 'we have to score a third goal'.
"I think for us we cannot be happy drawing at home. I am disappointed. When you know your players and what they can do it is disappointing. We have to think how we can improve for the next one."
On top of their frustration at Chelsea drawing, the Stamford Bridge faithful were also taking in the news that former Barcelona coach Pep Guardiola was bound for Bayern Munich. Benitez, though, had little to say on the matter. "It is fine for him because he decides to go there," the Spaniard said. "No (it is not a surprise). My job is to get three points against Arsenal."
Chelsea beat Southampton 5-1 in the FA Cup just 11 days ago but the Saints arrived at Stamford Bridge with a different game-plan and manager Nigel Adkins urged them not to panic at the interval.
"We know Chelsea are a good side. We knew if we opened up the space they have players who can hurt you," Adkins said. "We came with a game-plan to be compact and frustrate the opposition. It was a big call to leave Rickie Lambert out but we wanted to make sure we were in the game.
"At half-time it was 2-0 and I said, 'stick to the game-plan'. If we had gone and chased it there was every chance we could have ended up with a scoreline like Aston Villa, who conceded eight here.
"We stuck at it. Rickie came on and scored the goal and what a fantastic goal it was for the second one. Not many teams will come back from two goals down against Chelsea."
Source: PA
Source: PA