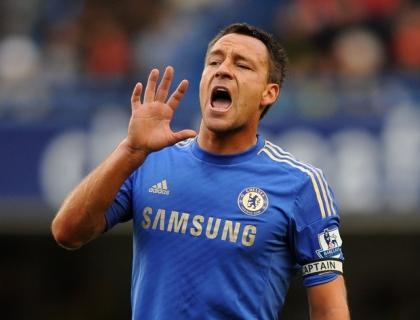 Chelsea's grip on a Champions League qualification place has loosened of late thanks to a woeful run of home form which has seen the club win just one league game at Stamford Bridge since Benitez took charge in November.
The Londoners have severely missed the leadership and defensive qualities of their skipper and for Benitez, the 32-year-old's return can not come soon enough. "We have some good players. Some of them show more character," Benitez said when asked about Terry's comeback.
"We have a group of players with quality and sometimes we miss these things. He's one of the strong characters we have. To have people with this mentality can help. Hopefully he will be fine. We will see a positive influence, hopefully, for the rest of the season in the team."
Terry, who came off the bench at Stoke last weekend, will be determined to put in a much better performance than he did against Arsenal last year when he slipped to allow Robin van Persie to score Arsenal's fourth in a stunning 5-3 comeback win for the Gunners.
That defeat put a severe dent in the Blues' title hopes, and Andre Villas-Boas - the man brought in to rebuild the squad - was on his way a few months later. Rafael Benitez is now carrying on what Villas-Boas started, although he is doing it in the guise of 'interim manager'.
With the likes of Eden Hazard, Oscar and Juan Mata, Chelsea are blessed with some fine attacking options, but Benitez has stressed that he, or whoever replaces him at the end of the season, is in charge of a squad that is very much work in progress.
"This is a time of transition," Benitez said. "We have players with experience who have to help the new players. And the new players have to realise what the Premier League means and what it means to be playing at Chelsea, competing for trophies here."
How Benitez must crave for the stability his opposite number Arsene Wenger enjoys. Wenger has not won a trophy in seven and a half years, but there seems little credible talk of the Frenchman being ousted from his position at Arsenal. Benitez is a big admirer of Wenger and does not feel he needs any sympathy for the Gunners' trophyless run.
"He's a great manager doing a great job," Benitez said. "He'll do a great job, hopefully, for another four years. Not this weekend, though. Football has changed, but he has to keep doing things his way even if it's too difficult. I don't feel 'sorry' for him because he's really good and is doing really well."
Source: PA
Source: PA