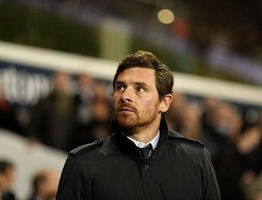 Saturday's 3-1 Barclays Premier League loss at Stamford Bridge piled the pressure on manager Villas-Boas, with the Blues going into Monday's trip to Wolves outside the top four. It is the first time in a decade Chelsea have been so low in the table at the turn of the year, putting Villas-Boas' project under more scrutiny than ever.
"I don't think so," said Villas-Boas when asked if his defence needed more protection.
The Blues boss was similarly dismissive of the urgency of reaching an agreement with Gary Cahill that would see the Bolton defender become his first January signing.
"If there is something to correct, we need to regain that confidence in the way we build up from the back," he said. "It's an easy thing to solve with players of this technical ability. With Gary, it's an ongoing situation."
Despite Villas-Boas' protestations, Chelsea's defensive statistics do not make for good reading. The 16 goals they have shipped at home is already more than they conceded during an entire season for 10 years. They have managed only one clean clean sheet at Stamford Bridge in the league.
More importantly, they have lost three times in front of their own fans already, having been beaten on only five occasions at home during the previous seven seasons. It is this which heralded the boos for Villas-Boas and his players at the final whistle on Saturday.
The Portuguese said: "We want to repay the fans their trust. They've been magnificent in December.
"The fans have a right to show their disappointment. Their away support has been magnificent. Their home support is improving. They know they can make a difference and we need them. There is no running away with excuses.
"What we regret more is that, from the last four games, we've lost a big opportunity to shorten the distance to the leaders. Massive opportunities lost. We would have been running for the title if we'd had a better December."
Source: PA
Source: PA