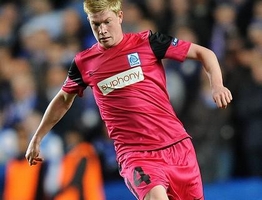 Andre Villas-Boas on Friday admitted that Chelsea's pursuit of Kevin de Bruyne had nothing to do with him.
The Blues were this week on the brink of completing the signing of 20-year-old Genk winger De Bruyne, who they have been linked with for several months.
But manager Villas-Boas revealed the decision to fork out a reported £8million for the player had come from above, and said: "You have to speak to the people from the club about that."
He added: "It's club policy. It's not within my immediate projects. He's a player the club has scouted for some time. I'm a manager who respects club policy."
It has long been assumed Chelsea bosses have not had full control over transfers since Roman Abramovich bought the club, with the likes of Andriy Shevchenko, Alex and even Fernando Torres all said to be Abramovich buys.
But while his predecessors have tiptoed around the subject - sometimes describing such signings as 'joint decisions' - Villas-Boas was the first to explicitly distance himself from a new arrival.
He added of De Bruyne, who is expected to be loaned back to Genk should he sign before the transfer window closes: "A club has to look to the future, whether it's with this manager or another.
"He's a good bet for the future."
Someone who has the potential to improve their current squad is Shakhtar Donetsk star Willian, who Chelsea had a £16.7million bid rejected for this week - according to the Ukrainian champions.
Villas-Boas ruled out resurrecting a move for the Brazilian before the transfer window closes, even if Shakhtar lower their demands, adding: "It's an extremely interesting player, but I don't think we'll progress with our interest."
Source: PA
Source: PA