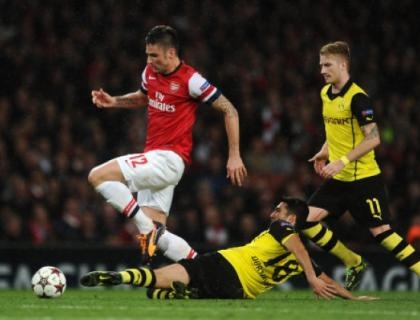 Arsenal right for Gnabry

Tomas Rosicky believes Serge Gnabry can realise his potential at Arsenal after the Germany youth international signed a new long-term contract with the Gunners.


The 18-year-old has impressed since breaking into the Arsenal first team and scored his first senior goal for the club in the 2-1 win at Swansea last month.


That came a week after he made his full Barclays Premier League debut in the win over Stoke.


Czech Republic forward Rosicky has been thrilled with Gnabry's contribution and anticipates further progress under boss Arsene Wenger.


"He has a manager here who will develop him and who has a history of developing young players," Rosicky told arsenal.com.


"Nothing better could happen to him than being offered a new contract here.


"He's a good dribbler and can take on you on in the one-on-one situations. That can be his strong point in the future and for an 18-year-old he's doing very well.


"He's a very talented boy, 18 years old and he still has plenty of things to learn and he'll find no better place to learn than here. I think it works very well for both sides that he stays here.


"He's got a great environment for his growth and the potential and talent is there, so let's see how he will develop."


Gnabry is likely to be involved in Tuesday night's Capital One Cup fourth-round tie with Chelsea, if he can shake off an ankle injury.


Isaac Hayden and Ryo Miyaichi are also set to feature, but midfielder Mathieu Flamini (groin) and Mikel Arteta (suspended) are out.


Wenger is uncertain how long Arsenal must do without Flamini.


The Gunners boss said: "He has a scan (on Monday) and then we will get the results as to how long he will be out.


"It doesn't look like a bad muscle injury but honestly it's too early to give you a precise answer. It's a groin injury."


Arteta was dismissed, unjustly in the Spain midfielder's opinion, for denying Marouane Chamakh a goalscoring opportunity in Saturday's win at Crystal Palace.


Confidence is high for Fernando Torres and Chelsea after Sunday's last-gasp defeat of title rivals Manchester City.


Torres took full advantage of City goalkeeper Joe Hart's latest defensive calamity to net the winner in a 2-1 victory for the Blues against one of their main title contenders.


"This is a goal of belief," Torres told chelseafc.com.


"I used to have a team-mate who told me every ball can be the most important ball of the game, and this is a clear example, a long ball and a misunderstanding and you have the ball to pass into the net. I was lucky.


"I am feeling good and with high confidence, and feeling better in the system we are playing with more space.


"Hopefully we can keep improving as a team as it is just the beginning of the season and important games are coming."


Following two goals in last week's Champions League win at Schalke and a first Premier League goal of the season, there is talk of a return to former glories for Torres, who has been much-maligned since his B#50million move from Liverpool.


Yet it took a woeful first-half miss to rouse the World Cup-winning Spain striker before he set-up Andre Schurrle's opening goal and netted the winner following Sergio Aguero's equaliser.


After draws at Manchester United and Tottenham, it was Chelsea's first significant scalp in the Premier League this season.


"We are happy because it is our first win against one of the contenders for the Premier League title," Torres added.


Next for the Blues is Tuesday night's Capital One Cup fourth-round clash at Premier League leaders Arsenal, who are two points ahead of Mourinho's men in the standings.


The scheduling of the fixture, coming with just a day's rest after the City match, means Jose Mourinho will make wholesale changes.


Torres is likely to drop out, so too is Schurrle, depriving the German of an on-field reunion with some of his compatriots in Mesut Ozil and Per Mertesacker.


"It's no surprise for me that Mesut is playing so well," Schurrle said.


"I'll be happy to see him and Mertesacker because we have a good team spirit in the national team and we are all good friends, but (on Tuesday) for 90 minutes, there are no friends.


"The manager will change many positions but we have high quality in every member of the squad."


Mourinho twice won the League Cup in his first spell at Stamford Bridge and twice won the Premier League.


Chelsea have won the championship once since, in 2009/10, and finished 25 points adrift in sixth in 2012, when they won the Champions League, and 14 off the pace in third last term, when the Europa League was won.



Source: PA
Source: PA