The rise to fame for the small city of Chievo has been astronomical. Just fifteen years ago they were playing their football in a local amateur league- now they are challenging for the Scudetto. But whilst nobody at the club is seriously thinking about the title, others have been heaping praise upon them. Internazionale manager Hector Cuper paid them the biggest compliment when he said "Roma and Chievo are our most dangerous rivals in the scudetto fight". But can we seriously consider them as title contenders? Well, judging by the article One Season Wonders, we must do. That is why we at Chelsea Mad got an exclusive interview with several of the Chievo players, not to mention the man behind it all- the coach, Luigi Del Neri…

The first player to speak exclusively to Chelsea Mad was Christiano Lupatelli. The former Roma stopper has been a crucial component in the Chievo starting lineup. But despite the press calling for him to be given a chance for the Italian national side, Lupatelli remains very down to earth about his chances, "I do not see myself in Japan and South Korea this summer. Buffon and Toldo are the best keepers". Lupatelli also took the opportunity to explain his reasons for wearing the number 10 jersey for Chievo, "The reason is because I am the first and, so far, the only goalie to wear that number. I actually won the number at our benefit auction". But Lupatelli is not one to shy away from the public eye. He made his Roma debut in the fire cauldron that is the Stadio Olimpico during a Rome derby. But he came through it well and that prepared him for the massive Verona derby. Not many players can claim to have played in both of these derbies so it is interesting to hear Lupatelli's comparisons between the two: "It is a very big in Rome but the atmosphere was very similar in our Verona derby". And if the stories being thrown around by the Italian press are to believed, Lupatelli could be gracing the stage in another Rome derby. It is believed that Roma have bought half of his registration but Lupatelli is giving nothing away as to his whereabouts next season: "No one knows at the moment, including myself. Let's just wait and see".

At the other end of the pitch, Massimo Marazzina and Bernardo Corradi have been banging them in for fun. Both have been highly praised in Italy with Marazzina being touted as a possible replacement for one of Giovanni Trapatoni's injury ravaged strike force and Corradi has allegedly been the subject of a bid from Inter Milan. Marazzina, however says that "there is no place for me in the national team with the likes of Totti, Delvecchio, Vieri and Del Piero ahead of me". But there is certainly a place for him in the Chievo side. He has been a revelation this season and it shows the degree of mental toughness that he has on offer when you consider how disappointing his last season in Serie A was. At the time he was at Reginna but things change in football so quickly. He is very clear about what the difference has been this time round: "I am now playing in an established team with very good assist men". It has been a very welcome turnaround for a player who also suffered the high of coming up through the Inter Milan youth team before failing to hold down a regular first team place and heading elsewhere. He did however gain some revenge against his former employers when he netted the winner against them, a result that took Chievo the top of Serie A in December. On that goal, Marazzina said, "Many years have passed since I left Inter but I must admit to a good degree of satisfaction in scoring against them". Corradi also scored a goal in that game and, immediately, comparisons were being made with Christian Vieri. But does Corradi really rank himself at Vieri's level, "The comparison with Vieri is too much!". As for any potential move to Inter: "The rumours linking me with Inter are created by the Italian press. At the moment all I am thinking about is doing my best for Chievo this season".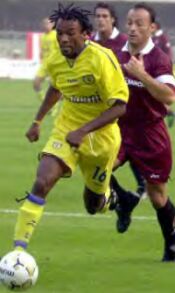 Christian Manfredini in action

Despite the lack of any decent funds to spend, Chievo possess a midfield trio who, on their day, can match any in the country. Jonathon Binotto, Eugenio Corrini and Christian Manfredini can all lay claim to being those "very good assist men" that Marazzina described as being behind his recent purple patch in front of goal. But whilst Corrini and Manfredini are hoping to catch the eye of Giovanni Trapattoni, Jonathon Binotto's hopes rest with making an impact for Chievo. When asked whether he believed that he could hold down a place in the Chievo starting XI, Binotto said, "I hope so, just as long as I can go on being injury free". And Corrini and Manfredini both feel that they are in with a shout of making it to Japan and South Korea. Corrini feels that "it will be very difficult, but maybe…", whilst Manfredini admits that "he would accept the chance if it came up". Corrini first caught the eye during his time at Juventus. But whilst the rest of us are bemused as to why he can turn on the style on a regular basis for Chievo but fail to do so on a consistent basis whilst at Juventus. Corrini, however, knows exactly why, "I was very young at Juventus and had previously only played with my home town club Brescia in Serie B. So at the time I was very inexperienced. Chievo also offered me the possibility to recover from two very bad injuries that I had suffered". Brescia midfielder Josep Guardiola obviously has no doubts about Corrini's ability, claiming that the Chievo man is one of the best central midfielders in the world, which led Corrini to say, "It is always a pleasure to receive compliments from an International class player like Guardiola". And he even says that he has no regrets from his time at Juventus anymore. Although Corrini has played for one of Italy's premier clubs, his team mate Christian Manfredini has not had a decent chance but he has apparently caught the eye of Roma. But like team mate Bernardo Corradi, he is giving very little away about his immediate future. What he doesn't mind revealing is his favourite position. Despite being used in a number of different positions this season he insists, "I am a winger!". He did, however, play in the Juventus youth side alongside Alessandro Del Piero in attack and claims "Del Piero is definitely the best player I have played with". This glittering start to his career failed to amount to anything but he has picked things up at Chievo. Another man who is excelling at Chievo is Luigi Del Neri, the small Italian side's manager.

Del Neri is taking Chievo in the right direction and, with such a tight budget, you would feel he would have to be a complete genius to be taking them to these incredible heights but his reasons behind the success at Chievo are simple: "We have the same, well tested side playing week in, week out. We make very few changes but they are usually good ones and there is a great enthusiasm displayed by all at the club". This enthusiasm has led them to the top of Serie A on more than one occasion but it seems like this publicity could lead to several of the players being approached by the big guns of Italian football. Del Neri himself is not even sure if he will stay but he indicates that he could manage without his star names if need be, "Who knows where I will be at the start of next season. If I decide to stay then I am sure we will cope". When questioned about the possibility of several players' international hopes he simply says, "I leave this to Trapattoni, it is his job and his decisions will be made from his judgement. If he does ask my opinion on any of my players I will tell him". And like any great manager he writes his sides title chances off, "As soon as we are safe we will decide upon our next aim. Realistically, the Scudetto seems out of our reach". His grasp of reality, ironically, seems realistic but the fans will cherish the time that Chievo were at the summit of Italian Football.

Who knows if this fairy tale will end with a happy ending…