The recent table topping antics of Real Betis and Chievo have provided hope for fans of smaller teams that success doesn't always come with a price. But has anyone actually given bookies a headache by beating the odds and lasting the pace for the whole season. Footy Mad decided to investigate which clubs had found unexpected success at the hands of the best. But success didn't always result in a trophy being brought home...
Blackburn Rovers- Premier League 1994/95
Blackburn Rovers will always be famous for winning the 1995 Premiership title. Having only been promoted to the top division in the early 90's, it came as a huge shock to everyone when Blackburn Rovers beat a Manchester United side to the championship despite a final day collapse against Liverpool. Rovers relied heavily on their 50+ goal strike partnership of Alan Shearer and Chris Sutton, labelled the SAS (Shearer and Sutton). Kenny Dalglish was the manager in which millionaire owner Jack Walker trusted to bring success to his club and Dalglish did not fail to disappoint. Despite the Premiership success, Dalglish stepped down shortly afterwards to take on the role of Director of Football. With Ray Harford in charge Rovers could not maintain the high standards expected from the previous season. A mediocre league finish and an abysmal Champions League campaign showed that the Blackburn Rovers of old was long gone. Despite the millions that the late Jack Walker put into the club, Rovers were relegated in 1999. They would, however, regain their spot in England's top league and are currently lingering in mid table.
Newcastle United- Premier League 1995/96
In a similar situation to Blackburn Rovers, Newcastle United were a newly established Premier League side. They entered the 1995/96 season with expectations of European qualification. Little did they know that manager Kevin Keegan would take them on the roller coaster ride of a life time. Despite leading Manchester United by 12 points at one stage of the season, Newcastle could not keep up their electrifying attacking football for the course of the season and were forced to settle for a second place finish. Two defeats against United proved costly and many people are of the opinion that Newcastle lost their way after an amazing game against Liverpool in April. The game had more twists than a Wes Craven horror flick, with Newcastle losing by four goals to three, Stan Collymore scoring the winner in injury time. Despite this setback they still looked to be in prime position. However, Alex Ferguson had been upset that Newcastle's penultimate game against Nottingham Forest had been made Stuart Pearce's testimonial. Fergie's derogatory comments had angered Kevin Keegan and, live on Sky Sports, Keegan lost his rag when told about Fergie's comments. United won their last game against Middlesbrough, making Newcastle's game against Tottenham nothing more than an exhibition match.
Chelsea- Champions League 1999/00
After finishing third in the Premiership the year before, Chelsea qualified for the Champions League under the new format. After disposing of Skonto Riga in the qualifying round, The Blues were drawn in a tough group with AC Milan, Hertha Berlin and Galatasaray. After negotiating two great away results, a win in Istanbul and a draw in Milan, Chelsea knew that victory against Hertha Berlin would guarantee a place in the second phase. Chelsea duly grabbed their chance with open arms and then came through the second phase with flying colours. A quarter final match with Barcelona meant that Luca Vialli's men were huge underdogs. A magnificent first leg display at Stamford Bridge saw Chelsea lead 3-1 and they went into the second leg in the Nou Camp full of confidence. Barca matched Chelsea's first leg score so the tie was sent into extra time where Barcelona would come out 5-1 winners, 6-4 on aggregate. The Blues have faltered since then and have yet to reproduce the scintillating form displayed during their failed conquest of Europe.
Wimbledon- FA Cup 1988
"The Crazy Gang", as the media had dubbed them, produced one of English Football's greatest shocks when they beat the mighty Liverpool in the 1988 FA Cup Final. A solitary Lawrie Sanchez header was enough for Wimbledon to win the biggest game in their history but the game wasn't without controversy. Liverpool were awarded a second half penalty and up stepped John Aldridge, the Republic of Ireland international with an excellent penalty record. His record was left in tatters when he became the first player in the history of the FA Cup to miss a penalty in the final. Dave Beasant was the keeper who made the magnificent save and he became the Dons' hero for the day. Despite mild success during the 90's, when they became an established Premier League club, Wimbledon are now plying their trade in the First Division. The Crazy Gang days are now well and truly in the past...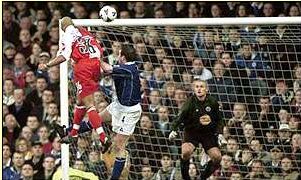 Roy Essandoh scores to put Wycombe in the semi's

Wycombe Wanderers- FA Cup 2001
Wycombe Wanderers, under the guidance of Lawrie Sanchez (see above), provided some light relief for the FA Cup after the big guns had threatened to dominate the competition. Their progress was almost unnoticed as they booked a quarter final tie against Leicester. Despite being very short of firepower, a fact highlighted when new signing Roy Essandoh, only signed after reading a Wycombe ad for strikers, made the squad, Wycombe played a blinder. With the scores level at 1-1, Essandoh came on to change the tie. His headed goal late on gave Wycombe victory as they booked their place in the semi finals. After Tottenham had drawn Arsenal, Wycombe were drawn against the mighty Liverpool. Despite Wycombe being the underdogs, Liverpool did not take them lightly. A 2-1 victory for the Reds meant that Wycombe's FA Cup dream was over. Over but not forgotten...
Borussia Dortmund- Champions League 1996/97
After clinching a place in the Champions League by virtue of winning the Bundesliga, Dortmund were looking to gain as much experience as possible from the campaign. They easily qualified from the group stage of the competition, suffering just one defeat at the hands of eventual group winners Atletico Madrid. A quarter final demolition of Auxerre was then followed up by a hard fought 2-0 aggregate win over Manchester United. Upon reaching the final, they knew that they would have to get past holders Juventus if they were to lift Europe's most famous trophy. Leading 2-0 at half time, Juventus caught a glimmer of hope when Del Piero pulled a goal back. But within 30 seconds of his introduction, Lars Ricken gave Dortmund an unassailable two goal lead. Dortmund held out and were crowned as European Champions. The following season Dortmund reached the semi finals but they were beaten by eventual winners Real Madrid. Their performances in the competition this season saw them suffer a humiliating first round exit in a group that they would have expected to win. It seems like a far cry from the Dortmund side of '97.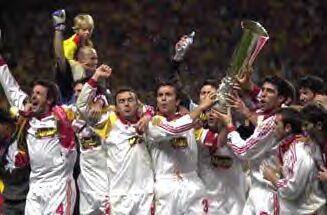 Galatasaray, Uefa Cup winners 2000

Galatasaray- UEFA Cup 1999/00
Galatasaray, under the guidance of influential skipper Gheorge Hagi, became the first Turkish side to lift a European trophy after beating Arsenal on penalties. Both sides had previously been in the Champions League, where a third place finish in the first group stage meant qualification for the UEFA Cup third round. Galatasaray were handed a tricky tie against Italian side Bologna but scraped through after an excellent second leg performance. The fourth round saw them knock out former Champions League winners Borussia Dortmund and a quarter final thrashing of Real Mallorca booked them a meeting with Leeds for a place in the UEFA Cup final. Despite all of the controversy surrounding the tie- two Leeds fans were stabbed in Istanbul- Galatasaray held on to meet Arsenal in the final. Despite both sides failing to score in 120 minutes and the sending off of Gheorge Hagi, it was an entertaining affair which would climax with a penalty shootout. Galatasaray held their nerve and the rest, as they say, is history. Galatasaray have fared slightly better in the Champions League than in previous years but success in Europe's premier club competition appears to be a bridge too far for the men from Istanbul- at least for the time being...
Leeds United- Champions League 2000/01
Despite being put in a group of death, along with AC Milan and Barcelona, Leeds manufactured a path into the second phase of the competition. It would be here that they would face a true test of character after being placed in the seemingly impossible group consisting of Real Madrid, Lazio and Anderlecht. Leeds would prevail, at the expense of Lazio and Anderlecht, to set up a quarter final clash against fellow giant killers Deportivo La Coruna. Deportivo undermined Leeds' tactics before the tie but it would be the Elland Road club that got the last laugh after winning the home leg 3-0 and holding out for a 2-0 defeat in the intimidating Riazor stadium. Another Spanish test would follow in the shape of Valencia. Leeds had good reason to feel confident- they had faced a Spanish side in each round of the competition, eliminating two in the process. But Valencia had other ideas. Their strong rearguard held Leeds to a 0-0 draw at Elland Road and a 3-0 victory in the Mestalla, a game overshadowed by the late sending off of Alan Smith, meant that Valencia had reached a second straight Champions League final. Leeds were left to ponder what might have been...