Over the coming months I will produce a range of player profiles for some of the world's greatest players, both past and present. This week the player in focus is one who is considered by many to be the greatest ever. No, it's not Pele, it is the one and only Diego Maradona.
Name: Diego Armando Maradona
Nationality: Argentina
D.O.B: 30/11/60
Position: Centre Forward
Clubs: Argentinos Juniors, Boca Juniors, Barcelona, Napoli, Seville, Newell's Old Boys, Boca Juniors
International Caps/ Goals: 90/34
Diego Maradona is, arguably, the greatest player to have graced the beautiful game. But his controversial behaviour landed him in trouble on numerous occasions and this trouble would eventually lead to the end of his career. As a youngster, Maradona joined together with a group of his friends in founding Los Cebollitas. The side was such an exciting prospect that they were signed up by Argentinos Jumiors, the club which Maradona would start his career with. He would make his debut aged 15, although he was just 10 days short of his 16th birthday, against Talleres. Coming on as a substitute, Maradona made a big enough impact to warrant his coach giving him a starting berth the following week against Newell's Old Boys. And just 4 months after that he would make his Argentina debut as a substitute against Hungary.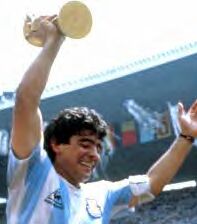 Maradona with the World Cup, 1986

Despite this appearance, Maradona would fail to make the squad for the 1978 World Cup in Argentina. He was devastated by this blow but recovered to shine at the 1979 World Youth Cup in Japan. This led to Boca Juniors splashing out a world record transfer fee of £1 million. His spell at Boca was then ended when Barcelona showed a keen interest in a player of great pedigree. The Catalan club splashed out £3 million to bring him to Spain, in what was another world record transfer fee. Sadly, the Spanish media were doubting if Maradona was what Barca really needed after he was sent off in a World Cup match against Brazil just months before signing for Barcelona. However, an injury plagued two years in Spain were ended when Napoli paid £5 million for Maradona's services. Despite the amount of time that Maradona spent on the sidelines, he managed a very comendable goal tally. And it was yet another world record fee for Maradona.

In total, £9 million had been paid out for his services, a tiny amount in this day and age but a huge figure in the 80's. Despite the difficulties in getting the cash to buy Maradona, Napoli's faith in his mercurial talents were paid back almost instantly. An incredible 70,000 fans bought season tickets to see the brilliant Argentine wizard. Before the 80's had finished, Napoli had two league titles, a Uefa Cup win and the Italian Coppa Italia. A lot of this success was down to Maradona and his time at the Naples club was possibly the happiest of his career. But Maradona would later watch his Italian dream turn into a nightmare. 5 years after winning the World Cup with Argentina, Maradona let himself down in the worst possible way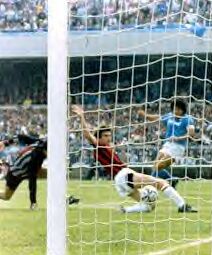 Maradona bags another for Napoli

In 1991, 7 years after joining Napoli, Maradona failed a dope test- the results showed traces of cocaine. Firstly, he was banned from Italian football for 15 months. This suspension would later be extended to world football. Upon his return to Argentina, he was arrested for cocaine possession. After his ban, Maradona believed that Spain was the place for him to rebuild his career. Unfortunately, his move to Sevilla failed to amount to much, despite the fact that they were managed by Carlos Bilardo, the man who managed Maradona during Argentina's successful World Cup campaign. Bilardo became annoyed with the stormy striker and Maradona had apparently called an end to his playing career when he took the managers role at Argentine club Deportivo Mandiyu followed by a similar role at Racing. His short managerial career ended when he made a playing return, first with Newell's Old Boys and then with Boca Juniors. There was never any doubt about Maradona's footballing talents but the pressure of being one of the World's greatest took its toll on Maradona. Despite all of these setbacks, he captured the hearts of many and will be remembered as one of the greatest players in football for years to come.

Next in the Great Players series comes Pele, officially the Greatest Player of the Century. Chelsea Mad will feature an in-depth look at the career of the mercurial Brazilian magician…